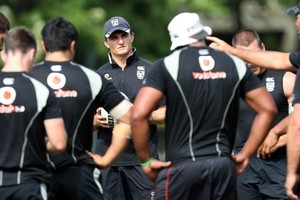 New Warriors Feleti Mateo, Krisnan Inu, Shaun Berrigan and Steve Rapira will all play in Saturday's trial against the Newcastle Knights in Greymouth.
Proceeds from the first of four Warriors pre-season trials will be shared between the West Coast Rugby League and families affected by the loss of 29 lives in the Pike River mining tragedy last November.
Coach Ivan Cleary has left out Kiwis players involved in last year's Four Nations campaign, naming a squad of 21 for the match.
While Cleary has not yet revealed his starting combination, he has confirmed that Tongan captain Mateo, former Kiwi Inu and ex-Kangaroos and Queensland utility Berrigan will play for the club for the first time.
Rapira will have his first outing for the NRL side after playing for the Junior Warriors in their foundation NYC side in 2008.
Also named is centre Joel Moon, who was yesterday called into the Indigenous All Stars to play the NRL All Stars in Robina on February 12.
Moon and Mateo, who is the club's representative in the NRL All Stars, leave for Australia on Sunday.
Fullback Glen Fisiiahi and second rower Matt Robinson, both NYC premiership winners with the Junior Warriors last year, along with captain Ben Henry, who missed the grand final with injury, are among the young players who will be pressing their NRL cases.
The other new faces are prop James Gavet, Auckland Vulcans halfback Pita Godinet and New Zealand resident player of the year Saulala Houma.
"It's very much the start of our trials programme, a hit-out to give us a chance to have a look at some players for the first time," Cleary said.
"We'll try a few options and mix it up a fair bit but really the time we have in Greymouth is principally about the occasion, just being there to do what we can to give the local people a bit of joy.
"They've had a terrible time with the mining tragedy and we hope we might be able to lift their spirits a bit through being out and about in their community."
Kevin Locke, Jacob Lillyman, Jeremy Latimore, Lewis Brown and Ukuma Ta'ai are among the first grade regulars who will play in the match.
THE SQUAD
Shaun Berrigan, Lewis Brown, Glen Fisiiahi, James Gavet, Pita Godinet, Ben Henry, Saulala Houma, Krisnan Inu, Jeremy Latimore, Jacob Lillyman, Kevin Locke, Sione Lousi, Micheal Luck, Alehana Mara, Feleti Mateo, Joel Moon, Steve Rapira, Matt Robinson, Ukuma Ta'ai, Elijah Taylor, Bill Tupou.