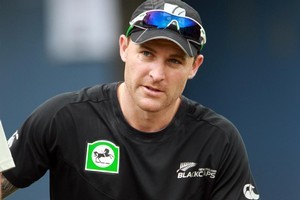 Expect New Zealand's favoured first choice XI to line up for the final couple of ODIs against Pakistan later this week.
The first four games of the series, including today's contest at McLean Park, have been given over to try and fulfil three aims: winning, giving all 15 squad members an opportunity for matchplay and helping to sort out the first-choice lineup for the start of the World Cup.
It is nigh on impossible to completely gel all three ideas successfully, and so players have come and gone, not entirely happily, from the 12 chosen for each game.
This time, it is Auckland's Kyle Mills, Wellington pair James Franklin and Luke Woodcock who sit the game out.
It was a strange day around the New Zealand team yesterday, a feeling lingering that - not necessarily with dark undertones - the songsheet was changing depending upon whom you spoke to.
Captain Dan Vettori, asked who would open the bowling with Tim Southee, suggested it would most likely be Mills or Hamish Bennett, despite Mills not even being in the 12 which was only named yesterday morning.
Then, asked why cup standby bowler Andy McKay was in Napier yesterday,he replied: "I just saw him turn up. You know as much as I do."
A short while earlier, a highly-placed source close to the inner workings told the Herald that batsman Jamie How was likely to be 12th man today, only for an announcement a couple of hours later naming allrounder Jacob Oram as the drinks carrier.
What is confirmed is that Jesse Ryder and Martin Guptill will resume their opening partnership. Brendon McCullum will stay in the middle order, but might be moved up a spot from his No 6 spot in Christchurch last weekend; that Nathan McCullum will share the spin job with Vettori; and that the composition of the XI leaves New Zealand looking a shade skinny in the seam department.
Vettori says any players unhappy at the rotating during the ODI series needed to harden up.
"We're trying to not let it affect us. Guys coming in and out, changing positions, it's always a little bit tough. But as an international cricketer you've got to be better than that and accept whatever comes."
Vettori felt identifying the first XI was close, but not quite sorted out.
"I don't think we've got it down pat yet and we need to find out pretty quickly," Vettori said.
"It seems whatever balance we go in with, we don't quite have enough batters or not quite enough bowlers, and maybe that could be the conditions.
"New Zealand conditions dictate you might need that extra seamer, but when we get to India you can play the more fiddly bowler. It's not like-for-like, but you just want guys in form and feeling good about themselves, and most of that will come from winning."
The cup squad is likely to spend more time together in the rest of the week before those jettisoned for the games in Hamilton on Thursday and at Eden Park on Saturday return to provincial one-day duty.
McLean Park is invariably full of runs, so the onus will be on New Zealand's bowlers to tighten their work against batsmen who have shown they can be unforgiving if bowlers fluff their lines.
Pakistan coach Waqar Younis, delighted with the 43-run win in Christchurch to level the series at 1-all, expects "a belter" of a pitch. Bat first is his preference in those situations.
"That's the key if the pitch is good. If you put runs on board the second team is always under pressure," he said.