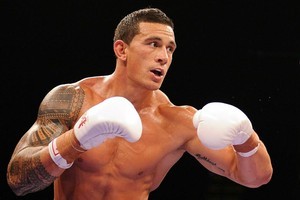 Grim tidings for all those SBW haters hoping to see the multi-faceted sportsman knocked out in the boxing ring. It ain't gonna happen. No time soon, anyway.
Turns out Sonny Bill can actually box. Really box. We're not talking Ali in his prime here, or even Larry Holmes in the doughnut-munching years, but Williams has clearly mastered many of the sport's rudiments in the 18 months in which he has been dabbling with it.
Compared to the ponderous, horribly uncultured brawler that was Scott Lewis, Williams was an artiste. It's far too early to say how he'd go against an opponent with a modicum of skill and genuine power in his punches, but Williams at least proved he was far from a joke in out-pointing Lewis over six entertaining rounds on the Gold Coast on Saturday night.
Faced with a southpaw whose only tactic was to bulldoze forward throwing looping overhand lefts that were so telegraphed his next opponent can already see them coming, Williams displayed nimble footwork, a stiff jab and a decent right upper cut.
It was evident he was both well-coached and possessed the ability to soak up vital lessons. He circled constantly to his left to stay away from Lewis's only weapon and clinched when he felt like a rest, controlling the tempo of the fight. If he'd thrown a straight right more often as Lewis rushed in, Williams would have stopped the forklift driver well inside the distance.
That he didn't KO an opponent whose four previous losses in seven fights all came inside the distance raises questions about the amount of power that resides in Williams' beautifully sculpted 107kg frame.
It's the sort of question that will never be answered.
Still a novice at 25, Williams would make an intriguing prospect as a boxer - if he really was going to be a boxer. If he trained for the sport fulltime and chalked up five or six fights a year for five years, then who knows? Certainly the heavyweight division doesn't boast many pure boxers these days.
Sadly, he isn't going to do that. He's going to spend his physical prime chasing eggs for the highest bidder. In time he'll take his place alongside the likes of John Hopoate and Solomon Haumono - a footy player who could box a bit.
Shame, because he's better than that pair. Much better. And much more popular. And unpopular.
"Sonny Bill you're a faggot," was one particularly audible catcall as the fighters awaited a decision that gave Williams every round on two judges' cards and all but a level round on the third.
His post-fight comments - "Me and Choc are entertainers" - were greeted with an equal mixture of cheers and boos.
That polarising personality will likely be his biggest asset when - and most certainly not if - he boxes on. No one has played the "love to hate em" card better than Anthony Mundine and Khoder Nasser in recent times. They have become very wealthy doing it.
He may never commit to the sport enough to be considered a proper boxer but, with Mundine and Nasser in his corner, Williams will bank plenty of cash from his dalliances with the fight game - the ultimate goal of any professional fighter.
In that sense, he will most certainly laugh last and loudest. With his future opponents certain to be carefully hand-picked, it looks like those hoping for a decent chuckle when Williams gets knocked on his backside will be waiting for some time.