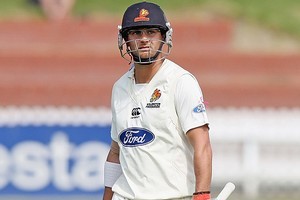 Wellington recorded just their second win in the domestic men's one-day cricket competition with a 52-run win over Northern Districts today.
The victory finally moved them off the bottom of the table, but the return to form comes far too late, with only one round of competition remaining.
Sent in to bat, Wellington lost Jesse Ryder early, run out by
Jaden Hatwell for four in the second over. Stephen Murdoch followed in the eighth over to leave Wellington 24 for two and looking decidedly shaky.
However, Cameron Merchant and Grant Elliott put on 165 for the third wicket as the middle order kicked in to boost Wellington to 294 for five.
Merchant's 94 off 110 balls included nine fours and a six, while Elliott put on 80 from 88.
When Merchant went in the 37th over, caught by James Marshall off Graeme Aldridge, Black Caps batsman James Franklin stepped up.
Franklin saw the Wellington innings to a close, belting a unbeaten 52 off 41 balls, helped by a cameo knock of 23 from 21 by Stewart Rhodes.
In reply, Northern put themselves under pressure with a slow start, losing Brad Wilson for four and BJ Watling for 13 as they battled to 33 for two at the start of the 13th over.
Quickfire half centuries from Marshall, who was bowled by Harry Boam two balls after reaching 50, and Anton Devcich (54 from 47) kept Northern Districts hopes alive, but a well-balanced Wellington bowling attack eventually skittled the visitors two balls into the 47th over for 242.
Andy McKay was the pick of the Wellington bowlers with 3-40, but valuable contributions came from Franklin (2-37) and Boam (2-47).
Wellington
S Murdoch c Hatwell b Aldridge 10
J Ryder run out 4
C Merchant c Marshall b Aldridge 94
G Elliott b Scott 80
J Franklin not out 52
H Boam c & b Aldridge 14
S Rhodes not out 23
Extras (8lb, 7w, 2nb) 17
Total (5 wkts, 50 overs) 294
Fall: 5, 24 189 209 228.
Bowling: BJ Arnel 10-0-60-0 (1nb), G Aldridge 10-0-44-3, B Scott 10-0-65-1 (1w), J Donnelly 4-0-31-0, J Yovich 2-0-17-0 (1w 1nb), A Devcich 9-0-41-0 (1w), J Marshall 5-0-28-0.
Northern Districts
B Wilson b A McKay 4
BJ Watling c McKay b Franklin 13
B Hatwell c Houghton b Boam 45
J Marshall b Boam 50
A Devcich lbw Franklin 54
J Yovich b Houghton 32
P McGlashan b McKay 12
G Aldridge b McKay 9
B Scott c McKay b Gillespie 5
J Donnelly not out 0
B Arnel c Houghton b Gillespie 7
Extras (1b, 2lb,7w, 1nb) 11
Total (10 wkts, 46.2 overs) 242
Fall: 5, 33, 116, 125, 174, 208, 223, 235, 235, 242.
Bowling: M Gillespie 9.2-2-38-2 (2w), A McKay 9-1-40-3 (1w), J Franklin 8-1-37-2 (1w, 1nb), M Houghton 8-1-34-1 (1w), H Boam 8-0-47-2, G Elliott 4-0-43-0 (2w).
Result: Wellington win by 52 runs.

- NZPA