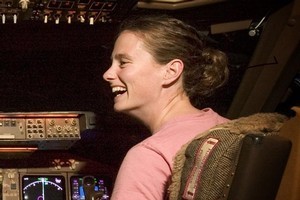 Wanaka's Nicky Samuels smashed the field for the second race running in the latest round of the national triathlon series near Christchurch yesterday while Tom Davison scored a maiden win in the men's race.
Samuels dominated the 750m swim, 20km bike, 5km run event from start to finish, leading out of the water and clearing away to win by more than three minutes.
Samuels said she was always looking to maintain high standards.
"There is always a pressure to perform, so many people come out early to watch and do their best themselves in their own race and I want to perform as well as I can, too.
"The run felt really good. This sort of course with a tail wind and a few turns and then into the wind is like a world series event. The variety and need to maintain cadence into the wind, and turning with the wind at your back with tight turns, is great."
Samuels said she was pleased with her form and fitness. "I have one more big bike week to do, so I need to hang in for one more week on the bike and then into the running.
"Once I start on the run training it will all come together. We are working on the theory if you have the strength on the bike you can have fresh legs off the bike and into the run. The aim is to get the cycling strong and have a fresh start for the 10km."
Christchurch's Davison, a member of the national development squad also led from start to finish, holding off James Elvery.
"That is a great result for me and a real confidence booster", he said.
"I have come off a bit of an ankle injury and have been working really hard on the run so to hold off James like I did today is fantastic, I am stoked to run so well off a hard bike."
Elvery was unable to stay with Davison on the 20km bike ride, with Harrison Dean finishing third.
- NZPA