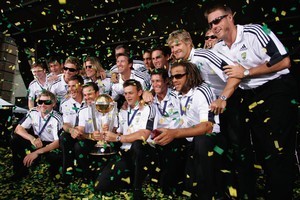 The upcoming World Cup in India, Sri Lanka and Bangladesh is a tournament that is too long; potentially a poor advertisement for the sport.
The cricket action will do its best to change that perception but the reality is, 49 games involving 14 teams over 43 days threatens tedium. Having quarter-finals makes pool results largely redundant.
Teams that do well early get little reward later, with one top eight knock-out match. It renders the first 33 days of the tournament basically irrelevant.
The International Cricket Council appear to have learned little from the 2007 escapade in the Caribbean which staggered along with well-noted flaws (a lack of attendance and heart) and ended with Australia winning their third consecutive final. It comprised 16 teams, 47 days and 51 matches (many of them mismatches). Thank goodness for the rum punch and the beaches.
This time on the subcontinent, they have pared the tournament back to 43 days, 14 teams and 49 matches.
When compared to more physically demanding sports, such as rugby or football, it makes this format a farce.
Rugby completed its 2007 World Cup in a similar time frame - 20 teams playing 48 matches in 44 days, while football last year fitted 64 matches among 32 teams into 31 days.
Cricket needs to follow football's example. Looking at New Zealand's current itinerary, there is too much time between matches. The gaps for New Zealand are at least four days, mostly five and, on one occasion, seven, then at least six until a possible quarter-final.
These are prime conditions for cabin fever and a numbing of the senses which cannot be good for "the product", as marketing gurus label it. A couple of days between would be fine.
The cricketers are only playing for a maximum of 100 overs and many players won't spend anything like that period on the field.
To elongate matters, warm-up games are built into the schedule. Then there is the travel: The Black Caps travel from Chennai to Nagpur to Ahmedabad to Pallekele (Sri Lanka) to Mumbai. That is just for the pool matches.
Surely it makes sense to re-structure, using the 10 test-playing teams and two qualifiers to produce more competitive games. The pools could be two groups of six or four of three and played in designated parts of the host territory. This could aid costs so teams do not rack up air miles.
The Champions Trophy and World Twenty20 tournaments produce the right formula along these lines and get the job done over a fortnight. A downside is fans might not get the opportunity to see certain teams.
The ICC might also struggle to maximise commercial interests the way it can if the tournament festers for over six weeks. Revenue needs to be considered; it can help fund and develop the game worldwide.
But surely better cricket in a more concentrated period is a healthier advertisement. Having Australia beat Canada by 250 runs or 10 wickets in the pool round achieves little.
The subcontinent is the 2011 venue but in future - if the 50-over World Cup has a one after Australasia 2015 - the tournament should be limited to one test-playing host. Appeasement to several nations spirals travel costs and extends the tournament unnecessarily.