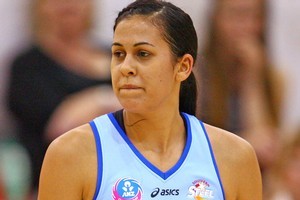 Against the modest backdrop of a near-empty Queenstown Events Centre, some momentous first steps were being taken as four ANZ Championship teams took to the court in the Southern Steel's annual pre-season tournament.
New Steel shooter Paula Griffin took her first shaky footsteps after undergoing a rebirth as a netballer, while veteran Donna Wilkins had her first hit-out with the Canterbury Tactix in her latest in a long string of comebacks to top level netball.
Griffin, who made the shock decision to make herself unavailable for the Silver Ferns last season after three and a half seasons in the national side, is back on court following a long off-season break, which she said has helped her rediscover her enjoyment for the game again.
It was not the winning return Griffin would have hoped for - the Steel were well beaten by Central Pulse and Queensland Firebirds in their opening matches. But with the Steel missing three of their biggest names - Australian import Natasha Chokljat, and Silver Ferns Liana Leota and Leana de Bruin - the results this weekend mean little.
But what does matter is performance, and Griffin said the two games revealed a lot she needs to work on.
"It was definitely a starting point for me, but it is great to get out there and experience the intensity of top level netball again," she said.
The 22-year-old, who joins the Steel after two seasons at the Pulse, is hoping to quickly get back up to speed as she chases a spot in the Silver Ferns for the world championships in Singapore.
With the Ferns set to name their squad for the July tournament on March 16, Griffin will have limited opportunities to push her case. But she doesn't regret the decision to take a break from the game last year.
"I know it was the worst time possible to decide I need time out. But I think if I just kept going on I would have just gone backwards because I would have gotten tired and over it."
At the beginning of the 2009 season New Zealand coach Ruth Aitken asked her players to commit to a full two-year programme that would include the Delhi Commonwealth Games, and this year's world championships.
Griffin agreed, but then reneged.
Therefore her chances of being reselected in the team rest not only on her having to out-play rivals for the fourth shooting spot - Grace Rasmussen and Anna Thompson - but her ability to convince the national selectors that she is ready to give the team her full commitment.
"I really enjoyed my break and it was good eye-opener for me to get that determination back to get back in," she said.
"I don't expect to just walk straight back in, I have to do my job here first and then work my way back up."
The passion for top-level netball is clearly still there for Wilkins as well. Her year away from the game for the birth of her second child has not dented her competitiveness.
The former Fern and Southland netball stalwart is playing in Canterbury colours for the first time in 14 years. Her accuracy on-goal and clever movement around the circle looks set to prove a handy addition to the Tactix as they look to bounce back from last season's dreadful last place finish.
Pre-season results
* Firebirds 58 Tactix 47
* Pulse 59 Steel 42
* Pulse 55 Tactix 49
* Firebirds 55 Steel 34