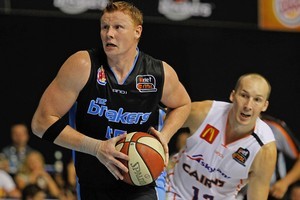 Gary Wilkinson. Photo / Getty Images
The New Zealand summer agrees with Gary Wilkinson. The Breakers' star American forward loves the beaches here, the climate, the people and the lifestyle.
He hasn't experienced winter here yet, but correctly assumes it won't be as severe as in his home state of Iowa, where temperatures can drop to -17C.
Those chilly times are now well behind him, off and on the court.
Having led the Breakers in scoring in all three games of the pre-season tournament in Darwin, Wilkinson cooled off when the series began.
In his first three matches he averaged just 11 points. His usually reliable outside shot deserted him, with just two of nine three-point attempts going down.
But as the weather and the Breakers have heated up, so has Wilkinson. He has topped 20 points in each of his last three games - a run his teammates will be hoping continues against playoff rivals Cairns Taipans in Cairns tomorrow night.
"I feel comfortable out there," Wilkinson said. "That is the way basketball is. It is a game of highs and lows. You feel good, you find some momentum and get some confidence and you can build off that. That's where I am at right now. I am just trying to find the best place for me to fit in to help the team be successful. Right now it looks like the shots are going in and that is a good thing."
Wilkinson's shots aren't the only thing falling for the Breakers right now.
Defending champions Perth - the club that looks to be the Breakers' likely opponent if they make the grand final series - have suffered a massive blow with regular Breakers-killer Shaun Redhage ruled out for the season with a dislocated hip.
And all four of the Breakers' main rivals have stumbled in recent weeks, giving the New Zealand club a three-game buffer at the top of the league. That margin could be even greater this week, with the Taipans facing a tough trip to Wollongong (overnight) before hosting the 13-3 Breakers on Sunday.
Certainly a Breakers side that has had a full week to prepare for the match won't be lacking in motivation. A win would claim the season series over the Taipans, and also end their record as the only team yet to lose at home this season.
"Every game is a game to create distance [at the top] and this one especially because they are right behind us," Wilkinson said.
"The more distance we can put between teams and establish ourselves in the league as the team to beat, a team who is going to bring it every game, that is a great thing for us."
Controlling the tempo and taking the ball out of point guard Akinde Ubaka's hands would be the key to success, he said.
With CJ Bruton expected to play after receiving a cortisone injection to his sore elbow this week, the Breakers are at full strength. And with the likes of Wilkinson, Kirk Penney, Alex Pledger, Kevin Braswell and Thomas Abercrombie all able to light up the scoreboard, they certainly look threatening.
"You've got guys all around who are capable and willing to do what is necessary to help us win," Wilkinson said. "That's what makes us so difficult to prepare for."
ANBL
Breakers v Taipans
Cairns, 7pm (NZ time) tomorrow