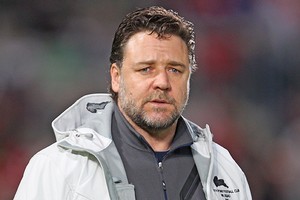 South Sydney owner Russell Crowe has defended his club's multi-million dollar deal with casino Star City, as the debate rages over the NRL's association with gambling.
The club announced the sponsorship deal with the Sydney casino today that will see the Star City logo appear on the front of Rabbitohs home jerseys for the next three seasons.
The deal comes just days after Penrith announced the renaming of their home ground as Centrebet Stadium, while Manly will also have the Centrebet logo on the back of their jumper this season.
The announcement of the sponsorships come amidst an ongoing investigation into betting irregularities during a clash between Canterbury and North Queensland last year.
Souths' new commercial arrangements represent a huge backflip from Crowe and co-owner Peter Holmes a Court, who in 2007 tried to remove poker machines from Souths Leagues Club, saying that taking profit from poker machines was at odds with the club's program.
"The football club is a completely different organisation from the leagues club," Crowe said on Friday.
"We don't have any control over what the leagues club do, they run their own game."
Crowe then defended the move by defining Star City as primarily an entertainment precinct and suggested society benefits from gaming revenue.
"This is an entertainment venue in general, it's not just about gaming," said the Oscar-winning actor.
"Let's get real about this situation, we're living in a state where they're telling us that the revenue from poker machines is paying for our hospitals.
"What we're talking about here is about a connection between two organisations that are all about entertainment, that are all about the future of Sydney."
Souths chief executive Shane Richardson echoed the views expressed by NRL chief executive David Gallop this week that the association between sport and gambling "is as old as sport itself".
"Let's be honest no sport in the world could ignore it, we're not holier than thou, the NFL, the English Premier League, wherever it is, there's gambling," Richardson said.
"As David Gallop said all along, it's going to be there, it's a major part of what sport is whether we like it or not and we've got to be part of it to have some sort of control over it."
Crowe admitted that his own personal opinions were at loggerheads with the deal and recognised that problem gamblers, who account for 40 per cent of gambling revenue, was an issue of concern.
"I don't like them (poker machines), I'm not a fan of them I've made that clear in the past.
"But in life I am a gambler. The fact that I took on South Sydney underlines that."
- AAP