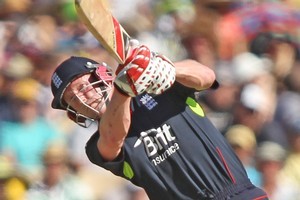 The one English cricketer Australia has kept quiet on the Ashes tour reckons he may finally be ready to make a noise Down Under.
In a lean summer, Australia could at least lay claim to having the wood on veteran allrounder Paul Collingwood.
But those days could be numbered judging by a buoyant Collingwood ahead of Sunday's ODI in Brisbane.
Collingwood was so out of form that he was picked as the fifth bowler and banished to No.7 in the batting order for Wednesday's ODI in Adelaide.
However, he sounded like a changed man after helping England to a drought breaking 21-run win over Australia in SA.
He shared an influential seventh wicket stand of 56 with Michael Yardy with a run-a-ball knock of 27 to push England toward 300.
He then added to Michael Clarke's woes by clean bowling the Australian captain on his way to 1-22 off seven overs as England turned the screws.
"Something like that can snap you back into form," Collingwood said in Brisbane on Thursday.
"I remember listening to David Boon at (English county) Durham in 1998 and he said the game is 90 per cent mental and 10 per cent technique.
"I wasn't sure what he meant at the time but that was before my international career.
"I know now that the mindset you take out to the crease means a lot - hopefully I will be more at ease when I next get out to the middle."
While a bit miffed to have been relegated to the unfamiliar No.7 position, Collingwood said that it actually helped him work his way out of his funk.
"It is disappointing going down to No.7 but there were a lot of other guys in good form," he said.
"But it was probably a good situation for me (when he got to the crease).
"I had to be positive. After getting myself set I freed the arms.
"I was happy with my game. Well, it was good to get past 20 - I haven't done that in a while.
Collingwood also appeared to be feeding off the renewed confidence in the English camp after they finally broke their ODI duck Down Under to make it 3-1 and keep the series alive ahead of Brisbane.
"Confidence is a huge thing in sport," Collingwood said.
"Losing those first few couple of games, it can become a habit so it was good to break that yesterday."
- AAP