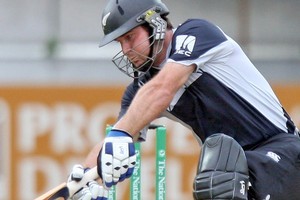 Try telling Jamie How there are any downsides to the New Zealand cricket team's player rotation policy.
Without it, there is every chance the Central Districts batsman would have been carrying the drinks or returning to his domestic team during the current six-match one-day international series against Pakistan.
But with the national selectors wanting to give every player in the 15-man World Cup squad time in the middle ahead of the subcontinent-hosted tournament which starts in mid-February, opportunities have arisen for the fringe players such as How.
And it is a fairly simple equation for a batsman -- score runs and you will be selected in the team.
"I'm pretty realistic," How said yesterday.
"It's a very good lineup and there are a lot of very good players so it's hard to make that first 11. I have to play well and take every opportunity but if I do then the rewards are there."
How's first opportunity was scuppered by rain on Wednesday because the second match of the series was washed out at Queenstown.
He would have batted at No 4 but he has been pushed up to open in the third match here tomorrow, with Jesse Ryder rotated out of the squad.
While Ryder and Martin Guptill loom as the first-choice opening pair, How knows if he scores runs the selectors will have to include him somewhere in the batting lineup at the World Cup.
"There's always a lot of pressure playing for New Zealand but it's always very enjoyable and I'm really looking forward to what might lay ahead," he said.
"It's another opportunity for me (tomorrow) and hopefully I can take it and force my way into that first 11. It's just a matter of doing your best to bat aggressively and to the team's plans."
The 29-year-old could not have asked for a better venue to be thrown into the opener's role either.
Christchurch has long been a batsman's surface and, with the recent ground changes here, the boundaries are even shorter than before.
"It's quite a hostile-type crowd, they get on to you if you're not doing well, but it's always good fun batting here. It's one of the better wickets going around and the batters are always happy to get here," How said.
"It's always a high scoring game."
How said he was intent on adopting a positive approach tomorrow.
He has a reasonable average by New Zealand standards of 31 from 36 one-day internationals but his strike rate of 69 is below par in the current era.
"I've been talking with Wrighty (New Zealand coach John Wright) a bit and he wants us all to go out there and play aggressively and bat with confidence, and that's what I'll be looking to do."
How is the backup wicketkeeper in the World Cup squad but said he had not been given an indication that he would have a stint with the gloves in the Pakistan series.
- NZPA