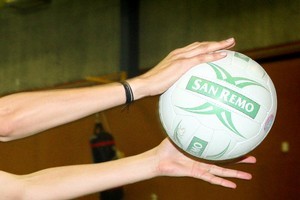 Southern Steel midcourter Liana Leota has a very straightforward goal for this weekend's pre-season netball tournament in Queenstown.
"I just want to get out there and play some bloody netball," she said.
Leota has just returned from a frustrating tour to Britain, where a calf injury sustained in a training game forced her out of the Silver Ferns' three tests against England.
She rejoined the Steel on Wednesday, but has been unable to train with her side leading into the three-day tournament, which begins today in Queenstown.
On advice from Silver Ferns management the Steel are taking a conservative approach to managing Leota's injury and won't be rushing her straight back into action. But the explosive midcourter said it was possible she would make a couple of fleeting appearances this weekend.
"It's slowly coming along. I'm hoping to get back out there this weekend for one or two quarters, but we just have to see how it goes."
With just over two weeks before the Steel's opening game against the Mystics, Leota said she did not want to risk doing further damage to her calf by pushing herself too soon. "I need to be there for the first game, so [taking it easy this weekend] is more of a precaution than anything else."
The setback in England was all the more disappointing for Leota, who had the opportunity to get some solid court time with veteran midcourter Temepara George left at home to recover from minor ankle surgery in the off-season.
"I was really keen to get out there and build on my combination with Laura [Langman] and also to play against England, because I think I've only had maybe two quarters against them in my whole international career.
"But I think I was still able to pick up a few things from the sidelines."
The diminutive midcourter said she was now focusing on making a strong start to the ANZ Championship to reassure national selectors she was back to top form before the world championship side is named in March.
Leota is not the only injury problem facing the Steel in the lead-up to their season opener on February 14.
Leana de Bruin also had an unhappy time in England, pulling up with a lower-leg injury after the Ferns' opening test win over the home side.
The experienced defender is likely to be used only sparingly, if at all, this weekend, while former Fern Sheryl Scanlan has been ruled out of the tournament as she continues to battle calf injuries.
Southland midcourter Kendall McMinn, a training partner with the Steel, has been drafted into the side this weekend.
As well as providing the Steel with a chance to solidify combinations and build depth in the squad, the Queenstown tournament will give them their first peek at rival teams.
The Pulse will feature Australian import and former Vixen Caitlin Thwaites, while former Steel shooter Donna Wilkins will pull on the Canterbury strip for the first time in more than 14 years.
PRE SEASON
Queenstown Events Centre
Today-Sunday
TODAY'S FIXTURES
* 11am Firebirds v Tactix
* 1pm Steel v Pulse
* 5.30pm Tactix v Pulse
* 7.30pm Steel v Firebirds