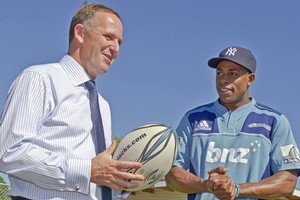 New York Yankee Curtis Granderson cites his own experience as evidence that Major League Baseball (MLB) in the United States is a realistic goal for young New Zealand talent.
No New Zealander has made it into the sport's big time, but for Granderson, hurdles are there to be overcome.
"I didn't think I would have the opportunity to play in the major leagues, especially when scouts told me I was too small, too slow, wasn't strong enough, wasn't fast enough," he said today.
"You can prove people wrong. Continue to work hard. Look at those things that people say you can't do. Or, 'they can't find me here in New Zealand'. That should be your goal and motivation to get you to the next level."
Cantabrian Travis Wilson and Aucklander Scott Campbell have both come close to breaking into the major leagues.
Wilson spent seven seasons with the Atlanta Braves, mostly at Triple A level, the highest minor league tier.
Campbell was drafted by the Toronto Blue Jays in 2006 and has been working his way up the ranks, getting a taste of Triple A action before injury stalled his progress last year.
Granderson said Campbell, 26, was "just a knock on the door" from making the next step up.
"It's just a matter of being in the right place at the right time," he said.
Formerly with the Detroit Tigers, Granderson, 29, was traded to the Yankees at the end of 2009.
He is in New Zealand as part of MLB's international ambassador programme to promote the sport, and has made similar trips to Europe, Africa and Asia.
He arrived not sure what the level of talent was like, but got an answer when he saw New Zealand beat Guam 14-3 in the Oceania under-16 championships in Auckland this week.
He said there were three MLB scouts - from the Yankees, the Baltimore Orioles and the Boston Red Sox - at the tournament "and you don't come all this way for a vacation".
"You come out here to see what is here and there is a lot of potential in this country, and they are eager to play, both the boys and the girls."
Granderson had expressed a desire to meet some professional rugby players while in New Zealand and this morning he was a guest of the Blues at their pre-season training.
Also there was Prime Minister John Key and son Max, 15, who plays baseball.
Granderson spent a few minutes tossing a rugby ball around with Max Key, who gave him tips about tackling technique and how to lay the ball back after being tackled.
He also chatted with the Blues players about their respective sports' training drills and he received a team jersey from skipper Keven Mealamu.
Along with the other test players in the squad, Mealamu also presented Granderson with an All Blacks jersey, which he accepted with obvious delight.
Granderson said the All Blacks would be the team he would back at the World Cup "unless they're playing Team USA".
- NZPA