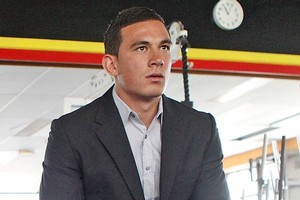 Sonny Bill Williams says his leg injury won't be made any worse from his upcoming boxing bout.
The All Black is downplaying the stress fracture to his shin that could delay his Super Rugby debut with the Crusaders against the Blues on February 19.
Williams is training for his third professional boxing bout on Saturday night.
He is finding it hard to convince people his circumstances would be the same, regardless of whether he was in the ring.
"I think a lot of people are jumping to conclusions. The main thing was me doing boxing wouldn't have been any less time spent on the sidelines or if I didn't do boxing. That's what everyone needs to understand," he told Radiosport's Tony Veitch.
"When I'm in the ring I can't even feel it. I take all precautions with running. People have jumped to conclusions saying I broke my leg and I'm doing boxing but that's hardly the case.
"I'm sure the New Zealand Rugby Union wouldn't allow me to do it if it was going to jeopardise my rugby."
Williams says he has been consulting with All Blacks doctor Deb Robinson throughout his boxing training.
"She's fine with everything and how everything is going. The plan was for me to get back and to be able to go straight into full training but I think it's taken a couple of extra weeks longer than was thought. It's just normal with these kind of injuries but it's really a big concern," he said.
"I talked with all of them (All Blacks staff) at the end of last game. The day after I went and got a scan and found out about the results. Straight away we had a big talk and we all came to the conclusion that it was not going to be a problem."
Williams has the possibility of another fight before the World Cup in September, if he feels it would be beneficial.
- NEWSTALK ZB/HERALD ONLINE