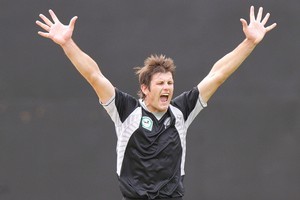 New Zealand paceman Hamish Bennett is happy to find his way as a change bowler despite being an obvious candidate to open the bowling in one-day international cricket.
Bennett played a co-starring role alongside Tim Southee in New Zealand's nine-wicket defeat of Pakistan in the first of six one-day matches here on Saturday.
The pair were expected to open the bowling but James Franklin took the new ball alongside man of the match Southee, who took five for 33 from 9.3 overs, with Bennett the second change.
New Zealand captain Daniel Vettori said a horses-for-courses approach was being taken with the bowling lineup and, given there was a history of bowler-friendly conditions Queenstown, Southee and Franklin's ability to swing the new ball would likely see them open again in Wednesday's second match.
"I think we'll look to use James, particularly in Queenstown where the wicket probably suits the swing and seam bowler," Vettori said.
"When we get to the likes of Hamilton and Napier, maybe we'll revisit it on the flatter wickets."
Vettori believed Bennett, who took three for 26 from eight overs in just his third one-day international, was better suited to first or second change.
"I think that's where he's most comfortable, but if he keeps bowling as well as he did (on Saturday), there's no reason why he can't step up into that opening role. We just hope he keeps performing that way."
Bennett, 23, who generated good pace and bounce and is comfortably the quickest bowler in the team, said he enjoyed being introduced later in the innings. He was still able to gain enough movement to be a handful.
"I think Franky and Timmy do a good job swinging the new ball so we've got to use that, especially with the conditions we had (on Saturday)," he said.
"I probably rely more on bounce so if I can use that and bowl a heavy nut it's going to help."
He had an eye on the speed gun as he wandered back to his mark at Wellington Stadium and, despite being clocked consistently at about the 140kmh mark, was hopeful of cranking the pace up a tad in Queenstown.
"It would be nicer if it was a little quicker," Bennett said.
"I've never bowled (at the stadium) before so it was quite funny, it always felt like you were bowling into (the wind), so I found that quite tough.
"Hopefully in Queenstown I have the wind at my back. I think in Bangladesh last year I got clocked just under 145kmh so if I can get the conditions going my way, hopefully a bit quicker but who knows?
"If it's not in the right area it doesn't really matter, does it?"
Bennett and Southee took eight wickets between them on Saturday as New Zealand routed Pakistan for 124 in the 38th over and chased down the target inside 18 overs.
The new opening partnership of Jesse Ryder and Martin Guptill fired with an 84-run partnership from 10 overs. Ryder blazed away with 55 from 34 balls, while Guptill ended 40 not out and Ross Taylor was unbeaten on 23. Only Misbah-ul-Haq, with 50, showed any fight for the tourists.
"It's a difficult one because we're not going to play on any wickets like that at the World Cup but this series is about getting that winning feeling back," Vettori said, referring to an 11-match losing streak late last year.
- NZPA