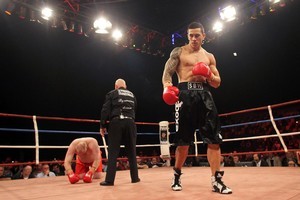 Oh dear. Sonny Bill Williams' boxing career is already limping. And wait, there's more, another bout in the World Cup season.
Will our super hero survive? Can't wait to find out.
Williams still has a stress fracture of the foot, the Sunday Star-Times has revealed, received during the end-of-season All Black tour.
Smokin' Sonny, one of boxing's finest up-and-comers, according to a Sky television press release, can't even "stretch out" on the injury, and may miss the opening of the rugby season.
But rest easy, fight fans, because the kid will continue preparing for Saturday night's "Match-Up of the Millennium" against "Sensational" Scott Lewis in Australia.
Thank goodness Williams won't let rugby interfere with a burgeoning boxing career.
According to SBDub himself, he can still "bounce around", a fortunate coincidence because this is what some boxing training involves.
It's news, though, that boxing training doesn't involve any genuine running. Ah well, you live and learn.
This sort of situation first emerged when the New Zealand Rugby Union allowed Dan Carter to play in France.
Releasing stars for short-sharp assignments, to outfits wanting full value for their buck and with no long- term interest in the players' welfare, means the finest rugby medical standards are in danger of getting the boot.
The traditional remedy for stress fractures is rest from activity that aggravates the problem. You would guess that those looking after Williams - All Black doctor Deb Robinson is said to be in "close contact" - will rely on Williams himself to reveal whether each particular training activity causes pain.
Close contact, the real sort that involves unimpeded line of sight, helps medicos reach their own conclusions.
I doubt whether Robinson is actually in the gym, watching Williams train every day. And let's be honest, left to its own devices boxing is the shonkiest (and most injury- prone) of sports.
If Williams suffers further injuries, in training or during the bout, he is unlikely to do the most sensible thing as far as his World Cup prospects go.
Furthermore, how ludicrous that Williams is allowed another bout during the 2011 rugby season, as has also been revealed. Williams needs the maximum game time to develop still raw potential.
The questions should be: "Is boxing the very best course for his safe, quick and full stress fracture recovery?" and "Is a mid-season bout the ultimate in rugby training?"
You may answer yes. The Crusaders may say yes. The All Blacks may say yes. The Dalai Lama, the Pope and Barack Obama may say yes. Even Steve Tew may say yes.
Not me, though.
* * *
Where there is Tim Southee, there is life. He is our great white hope, and in coloured clothing.
The upcoming World Cup will be a chance for the cricket all-rounder to become a genuine star. His moment has arrived.
Southee showed a fiery, competitive temperament against Pakistan in the second test at the Basin Reserve. Let's hope bowling adviser Allan Donald, the brilliant fast bowler for South Africa, can bring out the best in Tearaway Tim.
Donald was as good as the fast bowling art gets, and operating in his orbit may transform Southee.
Southee's lower order batting is on the agricultural side, but so was Richard Hadlee's.
As batsmen, new coach John Wright - who pared back his test strokeplay - and Southee aren't from the same stratosphere. But Wright's do-or-die attitude might further embolden the Northland slogger.
Southee looks as though he wants to lead the mad rabble Black Caps and impose his personality on the scene - that's what you have to really like about him.
Go, me lad, grab the moment, and do it. You'll have a little army of fans behind you.
Southee has a spirit many of us search longingly for in a procession of newcomers at rugby's Bumbling Blues.
Southee is at the point Hadlee reached and reacted so superbly to, where the raw product must be honed into world class skill. Because of our limited first class scene, New Zealanders usually have to cross this bridge in the international arena, a tough business.
The progress of Southee - who demolished a dodgy Pakistan one-day effort on Saturday - could be a highlight of cricket's World Cup.
As for Pakistan, they've already over-achieved by winning the test series and can bounce back - especially as the erratic Black Caps aren't all that good.
Not that many people care, though, judging by the latest attendance in Wellington.
Remember those glorious days of Hadlee, when we chanted his name adoringly in packed stands. Maybe the call for Southeeee will rumble around the grounds one day.
The cricketers are rolling in dosh but cricket is on hard times in this country, and Pakistan - minus household names - aren't a drawcard.