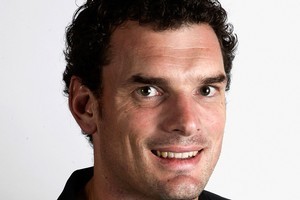 Bowling six overs and conceding 32 runs is all Kyle Mills has to remember of World Cup cricket.
Those figures came in his solitary appearance at the world's premier limited overs tournament against Bangladesh in Kimberley, South Africa, almost eight years ago. He spent most of that tournament as the Black Caps butler; delivering drinks, gloves and towels.
Matters looked like improving in 2007 as a first choice in the side but a knee injury ended his chances of competing at the Caribbean edition.
This time he faces a battle to make the first XI again, despite having been ranked among the world's top 20 one-day bowlers since September 2005. That period included a month as No 1 from early October 2009.
But the role of medium-fast bowlers could be limited in sub-continental conditions, especially as Tim Southee and Hamish Bennett have been picked ahead of Mills for the first two one-dayers at home against Pakistan.
Luck has seldom followed Mills in a one-day international career which has covered almost a decade. Of the 220 one-day internationals New Zealand has played since Mills made his debut on April 15, 2001, he has played just 123, due to a constant series of injuries involving his back, shoulders, knees, side and even mind.
The latter was bruised when he got blasted for 25 runs (including a no-ball) in the last over of a one-dayer against South Africa in 2004. All Black Grant Fox's advice on playing sport under pressure helped him deal with it. Fortunately New Zealand still won that match at Eden Park by two runs.
On the back of 11 straight sub-continental one-day losses, Mills recognises the difficulty in reversing that trend once they come up against Australia, Sri Lanka and Pakistan at the World Cup, rather than Kenya, Zimbabwe and Canada.
But, with self-belief being vital to any team's winning mojo, Mills can see ways of solving their problems.
"I feel like I've spent half my life in India of late. The last three trips have been hard work, especially since things went downhill after that initial [200 run] one-day win [over India] in Sri Lanka during August.
"It will be a tough task against the best teams on the sub-continent; we need to be more accurate in our plans, rather than offering as much width bowling in the last few series.
"The wickets are pretty flat," he said, "so our batsmen have to get more runs."
Mills also stresses the importance of the toss: "On the most recent tours they were crucial.
"If you are playing early in the morning, like we often are, [starting 9.30am] - and there is dew - it is best to field [and use the extra moisture in the air for swing]. Ideally you'd start around 11am to balance that out but, for reasons beyond our control, we can't.
Mills cites as an example the third one-day international against India in Vadodara on the recent tour. India won that match by nine wickets with 63 balls to spare.
"You had to bowl first to win there. India swung the ball in the first hour and we were left chasing from there on in."
Former Black Caps coach David Trist first picked Mills in the Black Caps in 2001. He says Mills could be crucial to the New Zealand campaign if he can utilise that swing factor.
"Kyle has to remember what he's capable of doing with that new ball. He needs to replicate that in training from here on in to restore his self-belief.
"Even though New Zealand know what he's capable of, in Indian conditions he could still be a 'surprise' at the Cup like Geoff Allott in 1999 or Shane Bond in 2003.
"Hopefully he can practise and get some confidence under the new bowling coach Allan Donald. It's all about his mental state because in the past he has had the desire. Kyle Mills was never a fast-bowling Ferrari, but made himself into one."
Mills insists he's happy with his one-day form of late, even if his performances have not appealed as widely to the selectors who left him out of the opening two one-day matches against Pakistan.
He has produced a couple of good knocks with the bat - 44 not out and 34 - at around a run-a-ball but has let himself down at times with the ball taking just four wickets at 53, with strike (58.25) and economy (5.45) rates placing him well down the domestic tables, including 0-79 from 10 overs against Canterbury.