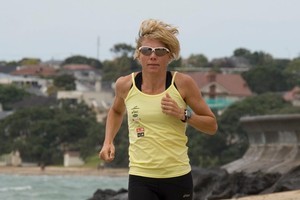 For years Samantha Warriner went head-to-head with the best triathletes in the world blissfully unaware she was dicing with death.
After rising to the top of the tree over shorter distances, English-born Warriner stepped up to the half ironman (70.3 series). Initially there was no problem.
A year ago she had success in winning the Port of Tauranga Half Ironman in record time. She went on to build an impressive record in the US - until things went bad.
While she was still competitive through the swim and cycle legs, she found herself struggling on the run - normally her strength.
"It was frustrating. I felt like I was blowing up," said Warriner, 39, yesterday.
"I was getting run down by others who I knew I should be beating. I was looking for reasons but put it down to just being tired.
"We now know that was not the case. I was coming in at the end of races looking white and pale while the others were red and hot."
Warriner returned to New Zealand to undergo some tests. Quickly she learned she was suffering from a racing heart and needed surgery.
In explaining her condition, Warriner said the wiring in her heart was out of kilter and short-circuiting. Her heart was racing at 230 beats per minute. Now, after surgery for super ventricular tachycardia, it is, at rest, 38-40. In her earlier competition days it was 44.
Certain it was a health rather than training issue - which the tests confirmed - Warriner checked in for an expensive laser operation on December 1.
Yesterday, barely seven weeks later, she confirmed she is now ready for the greatest triathlon challenge of all.
She will line up in the Kellogg's Nutri-Grain Ironman in Taupo on March 5 - 14 weeks after the operation.
"I have been assured there is no danger," said Warriner.
"I have never been told not to compete. As I always do, I will wear a heart-rate monitor and if that tells me to stop I will. I expect my heart rate to be around 150 beats a minute which is the level it used to be when I was competing."
Warriner compares her problem to the atrial fibrillation suffered by rowing great Rob Waddell.
"I remember watching Rob Waddell in his race with Mahe Drysdale when he just had to stop.
"Obviously, his heart was out of rhythm. That is what has been happening with me. I was very lucky in that mine was fixable," she said.
Now after two months off she is preparing to go head-to-head with some experienced competitors in a race she has never even seen.
"It is a bit daunting," she admits. "It will be much harder going from the Olympic distance to 70.3 than from there to a full ironman. I have no great expectations. I will just be happy to be out there racing."
Maybe, but given Warriner's competitive edge, it will be no surprise if she is in the mix from the start and [heart] beating away at the finish."