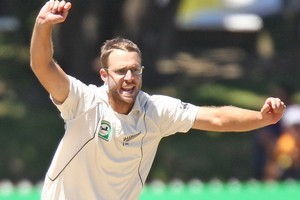 Both New Zealand and Pakistan wanted the win, but ultimately neither side was good enough in the second and final test of the series at the Basin Reserve yesterday.
So to Pakistan go the spoils, after their three-day win at Hamilton in the first test.
It was not the way Dan Vettori would have wanted to end his reign as test captain - a decision he confirmed again last night.
He led New Zealand in 32 tests, with six wins and 16 losses, from late 2007. New Zealand's next test will not be until the middle of the year.
"I made it [the decision] three and a half years ago," he said last night.
"Test cricket is part of the game I love. I want to play as long as I can. There's a lot of things I still want to achieve so there's no way I'm stepping away from test cricket."
Yesterday offered enticing prospects to both teams. Pakistan needed 274 to win; New Zealand were chasing 10 wickets.
At the end, Pakistan were 226 for five. Another hour and the visitors would have been more likely winners, their innings anchored expertly by captain Misbah-ul-Haq with his third half-century in as many innings in the series.
But even at the start of the final session, the contest was in the balance; 114 runs, or six wickets the respective targets and 32 overs as a minimum.
On the third day, New Zealand took six wickets in the final session; on Tuesday, Pakistan snared seven in the same period. New Zealand had hopes that a developing pattern might continue yesterday.
It did not, largely down to diligent batting, particularly from Misbah and Younis Khan, and on the two senior men's shoulders the fate of the series was effectively decided.
Pakistan had a safety-first policy, the more so after the first hour.
There was an occasional flurry of runs to keep them interested. But they largely toddled along without ever threatening to bury New Zealand. Bottom line, they did not need to; it was New Zealand who had to pursue the game.
New Zealand made the dream start, ripping out three wickets for 42 inside the first 13 overs - and they had overcome another umpiring howler going against them.
Umpire Rod Tucker gave Mohammad Hafeez the benefit after he smashed a fat edge to the wicketkeeper off Chris Martin in the day's third over. It was the eighth bum call of the test. Not good enough.
New Zealand players had talked about the need to be fully committed yesterday, and if that meant a bit of verbals, so be it.
Tim Southee struck with his first ball of the day then engaged in words with Hafeez, after the little batsman had top edged an attempted hook.
But it was not in the same league as being snarled at by men with big moustaches, such as a ferocious Dennis Lillee or cartoonish Merv Hughes.
Martin winkled out Azhar Ali and Hafeez - his 199th test wicket - and New Zealand were rolling.
The key period was the next three hours, as Misbah and Younis knuckled down to saving the series.
Had New Zealand been able to part them before lunch, or even in the hour afterwards, it would have been a significant leak in the dam.
Instead, they put on a grafting 118 for the fifth wicket, their second century stand of the match, and for both it led to their second 50 of the game.
Younis, who has not got a test average over 50 by luck, survived some awkward moments against Vettori's left-arm spin but New Zealand needed a slice of fortune and it did not come.
The Pakistani pair hunkered down and New Zealand's bowlers were not penetrative enough. Vettori had been anticipating a big day, but his only wicket came eight overs from the end.