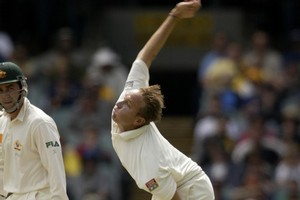 New Zealand's support staff has received a boost in star wattage with the signing of former South African speed great Allan Donald.
With 330 test wickets and a place among the quickest bowlers of the last 30 years, Donald has joined head coach John Wright's coaching group as specialist bowling coach, effective immediately.
Donald, 44, got a release from his job with the Mountaineers side in Zimbabwe first-class cricket to move back into the international arena.
"The opportunity to return to international cricket was irresistible and to work with somebody of the stature of John Wright is something which doesn't come along every day and I can't wait to get started," he said yesterday.
In a decade of international cricket from 1992, Donald was a key figure in South Africa's return to a position of dominance in the post-apartheid era.
He played 72 tests, taking his wickets at 22.25 each; and 272 ODI wickets from 164 games at 21.78.
Donald relished playing New Zealand. Five tests produced 21 wickets at 21.09.
Only Shaun Pollock (421 wickets) and Makhaya Ntini (390) have taken more test wickets for South Africa than Donald.
The Bloemfontein-born Donald replaces Australian Shane Jurgensen, who was eased out in the extensive reshuffle immediately before Christmas, which installed Wright as coaching supremo.
He enjoyed a long career at Warwickshire and has done coaching stints with the county and with England briefly.
Donald, known as "White Lightning", is aboard for the ODIs against Pakistan, starting in Wellington on Saturday, and the World Cup which begins on February 19.
However NZC did not specify whether Donald would remain part of the coaching staff beyond the World Cup.
Before the NZC statement was released late yesterday afternoon, Donald had been quoted as saying he was "excited about the possibility of joining New Zealand Cricket on a more permanent basis".
Vaughan said NZC had discussions with Donald in 2008 but he opted to stay with Warwickshire.
"Allan's appointment is an exciting one. His extensive coaching and playing experience should make a really positive impact," NZC chief executive Justin Vaughan said.
New Zealand lack bowlers with serious pace. So NZC could do worse than to get Donald scouting the country for those with potential to get up around the 150km/h mark. Promising Central Districts teenager Adam Milne is one, but elsewhere they're thin on the ground.