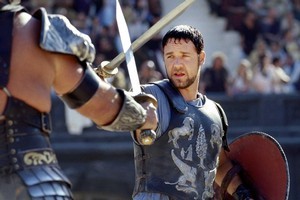 The NRL should thank its lucky stars for Russell Crowe. League's Trusty Rusty is at it again, popping up as a likely bidder for the services of Sonny Bill Williams once Rocky has done his dash with rugby.
Crowe is more than a saviour of South Sydney.
He's also doing his best to make up for the bores who now run league.
When the NRL isn't losing top players to England or an opposition sport, the clubs can be spied shuffling largely mundane players around in a game of Make The Salary Cap Auditor Happy (that's if you can't fool him).
This often pointless exercise is conducted with all the excitement of the 28th consecutive game of rainy-day Monopoly.
Having just lured Greg Inglis to the Rabbitohs - and retaining him as a league player in the process despite the worst efforts of the NRL - Crowe is now apparently chasing SBDub.
League desperately misses and needs Sonny Bill as much as it should hanker after genuine private enterprise.
Even those of us who detest what Williams did at the Bulldogs have to swallow our pride and hope against hope that he goes back.
Crowe is the man for the job.
Sadly, though, instinct says that the Gladiator will get the thumbs down from the chosen one, who will probably conclude that he has been there, done that in the cheapskate NRL.
The rugby mob may be oooohing and aaaahing over Williams, but for all of the plaudits he received after his All Black showing against the extraordinary might of Scotland, Williams was all at sea against Wales and he's unlikely to reach his league heights in union.
If anyone can get Williams back to the game he was born to play and dominate, then Crowe is the man. They talk a similar language, rebels who like to wield their star power.
Who knows - a flat white with Charlize Theron might seal the deal.
You certainly wouldn't bet on the sad suits who run the NRL assisting or enticing the game's greatest drawcard back into their ranks.
What Crowe has, in addition to star power, is an abundance of enthusiasm.
Once a place full of lovable rogues, Aussie league has turned into a bean counter's paradise, aided and abetted by lap dog TV commentators who can't draw breath without blabbing on about "the stars in our game".
League was actually more interesting when ruthless club bosses wheeled and dealed to create super teams, and dared all comers to knock them down.
Crowe is up for a challenge and sees league as a lot of fun.
He's chasing dreams for South Sydney, loading them up with as many stars as he can squeeze in, even though the squad has let the side down so far.
Crowe will always be better known as a screen actor, and anyone who has seen The Insider knows his genius for that art.
He's also become the maverick act in a sport that has swapped a genuine charm for a horror show of staged management.
ALREADY FEELING A BIT BLUE
The rugby season is almost upon us and the prospect of a country plunged into doom by another World Cup tragedy is not the only terrifying thought that enters the mind.
Yes, there is something out there scarier than the art installation on the corner of Sandringham and Walters Rds.
This scary thing is called the Blues.
According to the flash Blues website, their Super squad this year will contain seven newcomers.
Hopefully none of them have walked into HQ at Eden Park and been struck by any awe. The last thing any of the seven (and the other relative newcomers) should believe is that they have to live up to anything.
What all of them need to know is that they are surrounded by the administrators, coaches and players who have helped wreck one of the outstanding institutions in world sport.
This former rugby power can't even make a semifinal these days, and managed to finish below New South Wales AND Queensland in last year's competition.
New lock Liaki Moli and his fellow rookies should be thinking to themselves "it's up to me to rescue this cot case".
I doubt that they will, of course. They'll be overcome by the sight of all those legends around them, and quickly fall into their useless ways.
As for the New Zealand Rugby Union, it should insist on a top-to-bottom cleanout if the Blues stuff up yet again.
It is unfathomable why the rugby rulers, who have total control of the contract system, have let the game's power base and the country's financial centre fall into such rugby disrepute and disrepair.
Any true blue Aucklander used to glow with pride when Fitzy, Zinny, JK and co ran on to the field.
Now, when those Blues charge out of the tunnel, you want to wail in embarrassment and despair.
As for picking a winner of the new Super Rugby Whatsit, the Crusaders of course.