Silver Ferns 41
England 39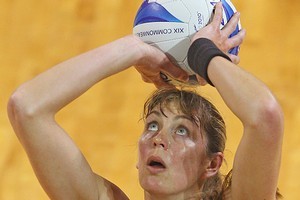 The series is in the bag but the Silver Ferns are still searching for that elusive 60-minute performance heading in to tomorrow's third and final netball test against England in London.
In almost identical circumstances to their opening test win, the Ferns yesterday scraped past England in Nottingham after fending off a late charge by the home side.
After a promising start the Ferns' attack capitulated in the fourth quarter, scoring just five goals for the period, and shooter Maria Tutaia says her side will be punished if they produce another inconsistent performance.
"I think we've used up all our get-out-of-jail free cards," Tutaia said.
During the early stages the Ferns displayed a marked improvement on their patchy opening win.
Rookie midcourter Camilla Lees, playing in her second test, looked much more assured with her feeding in to the circle, while Tutaia put the horrors of her dismal shooting effort in Manchester behind her, producing a confident display.
But their performance was marred by a couple of huge lapses late in the second quarter and early in the third, before their game completely fell apart in the final period.
The New Zealand side led by nine goals after the first quarter and stretched that lead out to 12 midway in the second period. In front 36-29 at the final turn, their lead was whittled back to three goals with five minutes remaining.
Daneka Wipiiti, who was introduced at halftime in place of Irene van Dyk - a predetermined move as coach Ruth Aitken attempts to get all players out on court for the series - failed to make an impact.
She put up five shots in her two quarters of play, converting two. The shooting circle also suffered from some poor service as the injection of Anna Thompson at wing attack at halftime slowed their attacking momentum.
Mercifully for the Ferns, England played worse.
While they looked dangerous in the latter stages of the match, the reality was it was ordinary play that got them in to chase position and they were guilty of committing soft turnovers in the final spell when they had their chances to put the visitors away.
But England coach Sue Hawkins preferred to blame the umpiring and was particularly riled by the sending off of centre Sara Bayman in the third quarter for persistent and deliberate obstruction.
"The persistent call has to come on everyone out on that court, you pick on one player because she's obstructing? Hello, look inside the circle," she said.
"Bodies are out there, people are hanging off our shooters and it needs to be tidied up - you get a bit sick of this."
Van Dyk, who has practically worn defender Sonia Mkoloma like a jacket in the first two tests and copped some rough treatment under the goal, is unlikely to have much sympathy for the England shooters.
Aitken was also happy with the consistency of the umpiring yesterday and thought Bayman's sending off was a "fair cop".
Justifiably or not, England clearly feel they have now twice been robbed of a win, with Hawkins claiming after yesterday's match her side have "shown more endeavour" during the series.
While disagreeing with that sentiment, Aitken acknowledges England are hurting and will be hungry for a win tomorrow.
"I think they'll throw hammer and tongs at us, they will be thinking coulda, woulda, shoulda and I'm sure they'll be wanting to start better. We just have to make sure we start even better."
If the Ferns are to pull off a series whitewash it is likely they will have to do so with just 10 players.
Midcourt dynamo Liana Leota is still struggling with a calf strain, while her Steel teammate Leana de Bruin has an inflamed tendon in her lower leg, which she picked up in the opening game.