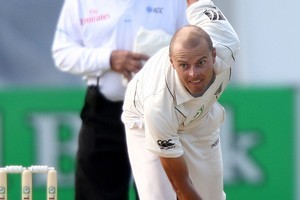 New Zealand will need plenty to go their way if they are to square their test series with Pakistan over the next 48 hours.
They will start the fourth day at nine without loss in their second innings, trailing overall by 11 but with rain expected today, and even more so tomorrow, the smart money is on a draw.
Setting the grim meteorological forecasts aside a moment, New Zealand need to bat decisively and with some pace today to set Pakistan a fourth-innings target.
New Zealand are chasing the game and will know that Pakistan won't be pursuing any chase with alacrity.
Having won the first test in Hamilton, they can park themselves in the middle of the Basin Reserve and force New Zealand to dig them out, if they're good enough.
So it could become a time and runs equation - and New Zealand will need as much of that as they can with the ball. But in their favour are signs that the pitch will help captain and spinner Dan Vettori tomorrow.
For much of yesterday, New Zealand resembled a man running after the last bus, albeit a slow-moving vehicle, before finally catching it just before it reached the fast lane.
New Zealand needed early wickets yesterday to get a grip on the match, but instead managed just one until the final ball before tea.
From there, Pakistan tumbled, losing seven for 87 over the final session to be all out for 376, just 20 ahead.
"It's a good surface," senior seamer Chris Martin said last night. "We'll have to play well. It is hard work, but as we saw [yesterday] with six wickets in a session, it can't be all bad."
Pakistan did the wearing down over the first four hours through their senior pair, captain Misbah-ul-Haq and Younis Khan.
They were parted on the final ball before tea, Younis the victim of a poor decision on a bat-pad catch at 73, with his 18th test 100 in sight.
"It's the nature of the game. Umpires are also human, so you cannot blame anyone on that decision," the magnanimous 33-year-old former captain said last night.
They shared a 142-run stand for the fourth wicket, Younis' innings notable for handsome driving in the arc from cover to mid on, while Misbah worked the ball in an effective, if unhurried manner around the ground.
Both were troubled at times by Martin and Tim Southee. The pair impressed with movement and hostility, beating the edges of both bats outside the off stump, and were unlucky.
They got a bit antsy at the batsmen too, as Martin confirmed.
He put it down to taking the fight to their opponents and felt New Zealand teams have been guilty in the past of being too nice on the park when a dose of in-the-face aggression was needed.
"It showed everyone we are fully committed and in the fight," he said.
"A contest is probably better viewing if you have a couple of teams going at each other. It's not something New Zealand teams are renowned for and perhaps we need to be."
Reward came in the final session as Martin ripped out three for 16 in the space of 22 balls to become the leading test wicket-taker on the ground.
He had Misbah lbw for 99, continuing his solid vein of test form, Southee was rewarded with a second wicket at the end while Vettori was economical with encouraging turn and bounce.
"With the amount of turn happening it's definitely going to end up with some uncomfortable moments later in the game. I'm glad we're not batting last," Martin added.