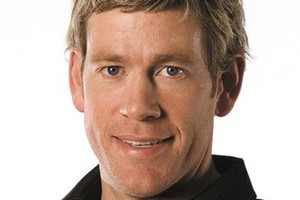 This week shapes as crucial for the cricket future of Jacob Oram.
He is likely to have two more domestic one day matches for Central Districts to cement his place in the Black Caps for the six-match one day series against Pakistan and the World Cup starting next month.
The all-rounder should get two further opportunities to demonstrate his skills. The Stags host the Volts today in Palmerston North and visit the Aces on Wednesday. It is uncertain when the one day team to play Pakistan will be named, but the World Cup squad is likely by the end of Wednesday, if the demands of the International Cricket Council are met.
Oram only came back to provincial level post-Christmas where he played in three of CD's HRV Cup games, including the lost final. He has played two 50-over matches.
It follows a four-month spell rehabilitating his knee. Oram had surgery after injuring his patella tendon during the Black Caps' tour of Sri Lanka in August.
"The knee is getting better. I'm managing it carefully and more bowling seems to be strengthening it at the moment."
The 32-year-old should command a place in the World Cup side, given New Zealand hardly ooze star quality of late on the back of 11 straight one-day losses. But Oram admits his performances to date have not been compelling.
Those include facing just 31 balls for 19 runs over both formats - but he has been run out twice in four innings. He is more upbeat about his bowling.
"I've got through two 10-over spells for CD in the last couple of games. I'm happy with the way the ball is coming out."
Oram has had figures of 2 for 55 and 2 for 58 at one day level and returns of 1 for 37, 0 for 30 and 1 for 37 from his stints in T20.
"If form dictates, hopefully I can get a crack at Pakistan [in the one-day series]. I was planning to be back by the end of the Pakistan one-day series. I'm desperate to get on that plane to the World Cup."
"I thought about life after cricket a fair bit when I was grinding through rehab. I talked to my wife and family. I'm not saying I'm thinking about retiring, but the World Cup remains a massive carrot."
His rehabilitation has come with some benefits outside the game.
"One silver lining is I have seen my boy Patrick [14 months] grow up more. I wouldn't have seen his first birthday if I'd toured India."