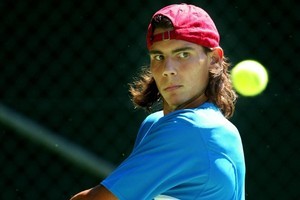 It was in 1933 that John Kieran, a columnist on the New York Times, used a phrase that was to become central to the lexicon of tennis.
Jack Crawford, an Australian, had won the Australian, French and Wimbledon championships and was aiming to complete the set of the sport's top titles by claiming the US crown in New York.
"If Crawford wins," Kieran wrote, "it would be something like scoring a grand slam on the courts."
The term "grand slam", which was first coined to describe the feat of winning all 13 tricks in bridge, had also been used to acclaim Bobby Jones' triumph in winning golf's four biggest tournaments in 1930.
When Crawford failed in his quest, losing to Fred Perry in the final at Forest Hills, the phrase was all but forgotten within tennis, but another New York Times journalist, Allison Danzig, revived it five years later to describe the achievement of the American Don Budge, who succeeded where his Australian predecessor had fallen just short.
Over the next fortnight the term will again be on everyone's lips. Rafael Nadal, having won the French, Wimbledon and US crowns last year, will become only the third man in history to hold all four titles if he wins the Australian Open, which begins in Melbourne on Monday.
Like Budge, Rod Laver won all four major titles in the same year, performing the feat in 1962 and again in 1969, when he became the first and only man to do it in the Open era, competing against amateurs and professionals alike.
If Nadal were to take possession of the full set of major titles, nobody would dispute the enormity of the achievement. The 24-year-old Spaniard is already one of only seven men, alongside Perry, Budge, Laver, Roy Emerson, Andre Agassi and Roger Federer, to have won a "career Grand Slam" - all four majors but not in the same year.
Only Agassi can match Nadal's feat in also winning the Davis Cup and the Olympic singles title, while Agassi and Federer are the only other players to have won majors on three different surfaces.
Nadal may have been considered a clay-court specialist in his early years, but four of his last five major triumphs have been on grass or hard courts.
Does Nadal himself think it might be possible to win all four majors in a calendar year? "I don't know whether it would be possible for another player, but I think it would be almost impossible for me," the world No 1 said.
"It's impossible to win a Grand Slam without playing your best tennis. A lot of factors have to come together: you have to be lucky, you have to be playing well, everything."
With nine major titles to his name already, Nadal is on schedule to overhaul Federer's record tally of 16. At 24 years and seven months (Nadal's age now), Federer had won seven major titles. The Spaniard completed his career Grand Slam 38 months earlier than his great rival.
"What he's achieved is amazing," Federer said. " He's a wonderful player. He's proved that he can play on any surface now. The ones who still call him a clay-court expert don't know much about tennis."
In any talk of comparisons between the two men Nadal, typically, insists his predecessor as world No 1 should be regarded as the greater player. "Roger is the best player in history," he said. "I think talk about whether I am better or worse than Roger is stupid. The titles say he's much better than me. That's the truth at the moment and I think it will be the truth all my life."
Does he try not to think about the prospect of winning here and holding all four Grand Slam titles at the same time? "What's in my head is trying to be very competitive," he said. "That's what's in my head - and to try to play well in the first round. After that it's difficult to think more when you are playing a very difficult tournament like the Australian Open.
"For sure it's extra motivation, but the motivation is to play well in Australia, not to win the fourth in a row. I'm sure this will be the only one opportunity that I'll have in my life. I won't have more of these opportunities to win all four in a row."
- INDEPENDENT