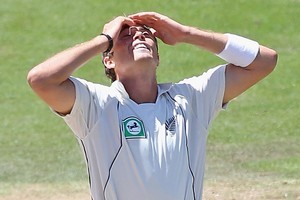 New Zealand pace bowler Tim Southee is prepared to do his share of one of the least attractive jobs in world cricket - bowling into the wind here at Wellington's Basin Reserve.
New Zealand and Pakistan arrived here yesterday ahead of the second and final test starting on Saturday, the hosts looking to square the series after a humiliating 10-wicket defeat inside three days at Hamilton.
Southee fronted the media on a day when the bowlers were given a rest, and it did not take long for Wellington's infamous winds to come up in conversation.
Former New Zealand bowler Iain O'Brien was so accustomed to the role of bowling into the wind that, quite oddly, he relished it, but Southee said there probably would not be one dedicated into-the-wind bowler this week.
"We haven't touched on it but I think all three seamers will have to adapt to the conditions," said Southee, who bowled better in Hamilton than his return of two for 82 suggested.
"There are going to be times when you have to bowl into the wind and do a job for your mate at the other end, we're prepared for that."
The performance of the three seamers was the only positive aspect the hosts could take out of the Seddon Park debacle.
Southee, his Northern Districts teammate Brent Arnel, who had test-best figures of four for 95, and Chris Martin, with three for 86, all toiled away to restrict Pakistan to 367 on a very good batting surface.
Southee, who also scored 56 in New Zealand's first innings, described it as his best performance from 12 tests and was pleased he was able to contribute, albeit to a losing cause.
"No matter how many games you've played you've got to take a bit of ownership yourself and step up," he said.
"You can't rely on the same people to step up week in and week out."
His 73 runs in the test was second only to Brendon McCullum for the hosts, but, as with his bowling, he wants to be more consistent, and prove he can back-up a good showing with another.
He also felt the New Zealand bowlers needed to take a leaf out of Pakistan's book, the tourists putting on 111 valuable runs for their final four wickets as their tail wagged.
"You've got to contribute somehow and I managed to get some runs in the last test, but I've still got to work hard on that and just hang around with whoever is batting," he said.
"It's been a focus for all the tailenders, to hang around with a batsman if they're in or together if there are two tailenders in."
- NZPA