Breakers v Taipans
North Shore Events Centre, 7.30 tonight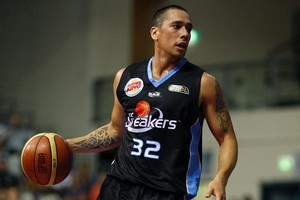 After negotiating the tricky minefield that is the Australian NBL festive season, a buoyant Breakers will tonight make their first home court appearance in over a month.
The Breakers return to the North Shore Events Centre to take on the Cairns Taipans - the same team they faced in their last outing at home on December 9.
The home side won that top of the table clash 93-79 and have since managed to maintain their place at the top of the ANBL ladder during a difficult run of away games.
The Breakers have had just one loss over their past four games - an ugly 79-96 defeat to Townsville on New Year's Eve. They bounced back with a 90-85 win over the Adelaide 36ers last weekend to improve their record to 11-3.
Be it physical or mental, typically the Breakers have tended to come unstuck over Christmas-New Year and point guard Paul Henare says the team are relieved to have come through it relatively unscathed this season.
"It's a bit of a psychological thing getting the festive season out of your system and making sure you're staying focused and I think so far we've done a good job of that."
However many in the camp, including star shooting guard Kirk Penney and import Gary Wilkinson, have niggling injuries, while fatigue levels are high from all the airport hopping.
So the team are taking comfort that the long stretches on the road are behind them. Nine of their last 14 games will be played at home, putting the Breakers in a handy position leading in to the play-offs.
"We've done a lot of travelling and I think the guys are happy to be home for a little while. We have a good little stretch finishing the season in with a lot more home games than road games, so we've put ourselves in a good position," said Henare.
"Getting wins is important, but it's more about finding our flow. There's a couple of niggling injuries floating about so taking care of your body is really important and it's easier to do that when you're at home."
Despite the relative ease with which the Breakers managed to dispatch the Taipans before Christmas, few are tipping another walkover from the home side.
The Taipans (9-3) are hot on the heels of the Breakers in the competition standings, with the Kiwi side boasting a marginally better winning percentage. A win tonight would give the Breakers breathing space, but coach Andrej Lemanis said winning the "series" was more important.
If they topple Cairns for the second time this season, they will wrap up the series against a strong contender, which ensures they gain home advantage come finals time if tied on points.
The visiting team will feature a couple of familiar faces to Breakers fans - veteran Phill Jones and newly signed point guard Lindsay Tait.
Henare expects his Tall Blacks teammate will been keen to make his mark. "Everyone's really stoked for Lindsay to finally have a job and it looks like he's slotted in really well. But once we step on the court, there's no mates."