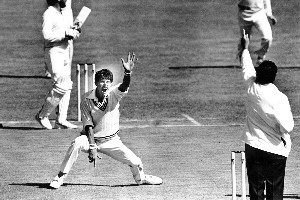 John Wright urged patience but he need not have bothered. Followers of the New Zealand cricket team may be missing some things, like common sense, but patience comes in abundance.
One man changed New Zealand cricket, made the wait worthwhile and his name, of course, was Richard Hadlee.
There have been outstanding cricketers of varying natural talents dotted about - Glenn Turner, Martin Crowe, Andrew Jones, Mark Richardson, Daniel Vettori and Chris Cairns spring to mind, and others way before them.
Compared to the real popularity of the game, as opposed to its favoured status in the media, we've over- achieved in this regard.
But only Hadlee changed things drastically.
Wright may not have noticed, but the reaction to one of the most extraordinary collapses in test cricket - the Hamilton horror - has been muted.
When Australia were bowled out for 78 at Lords a good 40 years ago, one English newspaper carried pictures of each wicket ... on the front page. Now that's a reaction.
Pakistan, minus about half a dozen leading players, did exceptionally well to bowl New Zealand out in a session, but they got an awful lot of help.
Disasters of this ilk are hardly unexpected in New Zealand cricket.
I sometimes recall an old school mate who steadfastly supported the Australian team (a route I came to follow over the years rather than be deprived of the finest test action).
This bloke was so enamoured with Australia that he doggedly tried to sling bowl like Jeff Thomson, even though he rarely landed the ball on the pitch.
Rather than being a blind patriot, he was truly in to free thought, speech and deeds.
"New Zealand batsmen are like sheep - once one of them goes the rest quickly follow," he would always say with total contempt.
How true.
Gradually, cricket has returned to the expectations of the pre-Hadlee era.
My earliest memories of watching test cricket include rising through the concrete of the Eden Park terraces to see a lush outfield, and a couple of Australian batsmen settling in for most of the day. Doug Walters may have been one of them.
There was a point when cricket seemed very unfair, because while we were allowed 11 batsmen, Australia only used four or five.
Hadlee changed that, but not forever.
New Zealand has endured openers who quickly close, middle order batsmen only briefly acquainted with the middle, fast bowlers who aren't fast, spinners who hardly spin the ball, and worst of all medium pacers capable of bowling all day and who are allowed to do so. On a positive note, we excelled at rearguard batting actions.
Over the long haul, the averages don't lie, and our bowling attacks have rarely been good enough.
The batting trends are even more dire, especially at the top order. Those who escaped with reasonable averages usually had shortish careers, curtailed by fate or terminated by the man himself before disaster struck.
Others start with a roar and crash with a hiss. Many others never escaped the launch pad.
Wright's determination to find batsmen who love occupying the crease sounds all well and good, until you trawl through the realities of the team sheet and judge the chances of success against the odds presented by history.
Brendon McCullum will always be a hit-and-miss prospect as an opener because his brilliant flashes are not backed up by the core technique of a Matthew Hayden. At the age of 29, the die is cast with McCullum.
Tim McIntosh set out to occupy the crease in Hamilton, but wasn't good enough to do so.
Martin Guptill hung on as grimly as a prospector with a hunch but there was no gold to be found. Ross Taylor also tried to cling on, unsuccessfully. His career will remain intriguing but flimsy.
Jesse Ryder has a superb average (of 47) by New Zealand standards but only a reasonable strike rate for his ability. Tampering with his game might produce results but more likely tempt fate. Patience is not a virtue for Ryder.
Who truly believes that the course of these erratic careers can be substantially altered, and in unison?
Kane Williamson is young enough to remain impressionable, but is he a Hadlee-type figure capable of rescuing what became a train wreck in Hamilton?
A wild imagination is needed to find players better than this lot in our domestic cricket.
As for wild expectations, long gone.
They eyed the exit door the day Hadlee departed.
He was the most remarkable character I had seen in New Zealand team sport, and by a very long way, until the amazing Richie McCaw came along.