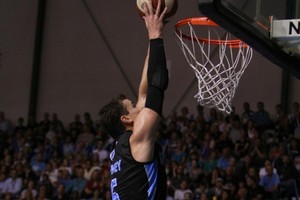 The New Zealand Breakers began the year as they mean to go on in the Australian National Basketball League with a hard-fought 90-85 away defeat of the Adelaide 36ers.
Taking a 21-point lead into the final quarter on Saturday, the Breakers got a scare from the desperate hosts but did enough to maintain their buffer at the top of the league with an 11-3 win-loss record.
They bounced back from a New Year's Eve setback away to Townsville, led by a superb all-round performance from forward Gary Wilkinson.
The skilled American led the scoring with 27, supported by 25 to Kirk Penney, and also contributed hugely by pulling down seven offensive rebounds. His rebounding helped the Breakers to a huge advantage in that department and statistics showed they scored 17 "second chance" points to the hosts' two.
Thomas Abercrombie pulled down a game-high 13 total rebounds, mostly at the defensive end, and produced three blocks.
Trailing 50-42 at halftime, Adelaide were kept to a club record-low seven points in the decisive third quarter, the Breakers effectively closing down key scorers Adam Ballinger and Brad Hill, who finished with 27 and 17 points respectively. The Adelaide pair came alive in the final quarter but the 36ers ran out of time.
The Breakers face a major test at home to second-placed Cairns Taipans on Thursday.
- NZPA