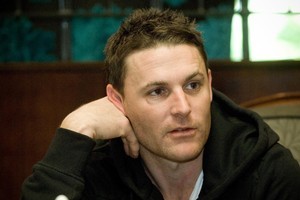 In the often illogical world of Indian Premier League high finance, what constitutes a bargain buy?
Only the franchises know why they would fork out a small fortune for one average player; a quarter of that for a top-class act.
Still, that's their business. Ten franchises for the fourth edition of the T20 competition in April/May bought 72 players out of 88 who were on the slab on Saturday night for US$52.8 million ($69.51 million).
Scott Styris last night became the sixth New Zealander to get himself a deal, US$200,000 with defending champions Chennai.
Best off is senior batsman Ross Taylor, snaffled for US$1 million by Rajasthan Royals, where he will share a dressing room with Australians Shane Warne and Shane Watson, Indian hero Rahul Dravid and England's world T20-winning captain, Paul Collingwood.
New Zealand captain Dan Vettori was a US$550,000 buy for the Royal Challengers Bangalore - Taylor's old franchise - and will chew the fat between games with the likes of Indians Zaheer Khan and Virat Kohli, Sri Lankan Tillekaratne Dilshan, South African A.B. de Villiers and Australian quick Dirk Nannes.
Brendon McCullum is a US$475,000 purchase for the new Kochi franchise, along with big names Mahela Jayawardene, Graeme Smith, Muttiah Muralitharan and V.V.S. Laxman.
Both Nathan McCullum and James Franklin were bought for US$100,000 - McCullum by the other new operation, Pune; Franklin by Sachin Tendulkar's Mumbai Indians.
Franklin might find himself in a tense dressing room - his teammates include Australian Andrew Symonds and Indian spinner Harbhajan Singh, who have a serious on-field history.
Symonds accused Harbhajan of calling him a "monkey" during a spiteful test at Sydney three years ago. Harbhajan copped a three-game ban which was overturned on appeal, leading to serious acrimony.
You'd never pick little Indian opener Gautam Gambhir as a contender for a record signing.
Quite why Kolkata Knight Riders should fork out US$2.4 million for a batsman - who is a fine technician at test level, a good ODI player but not, you would think, the dream signing for the flash and dash of T20 - defies comprehension.
It was a big day for the Pathan family. Allrounder Irfan - not even in India's World Cup 30 - went for US$1.9 million; his brother, big-hitting Yusuf Pathan, cost Kolkata US$2.1 million.
Another 71 players were on the table last night.
So how to work out the smartest piece of business?
Collingwood, at US$250,000, might fit the bill for Rajasthan.
Or what about Mr Cricket, Australian veteran Mike Hussey, US$475,000 for defending champions Chennai? Or Sri Lankan leader Kumar Sangakkara, who bats brilliantly, captains and keeps wicket? He sounds like a snip at US$700,000 for the 2009 champions Deccan Chargers.
If he is at his blazing best, Brendon McCullum's sale might finish up one of the more savvy signings.