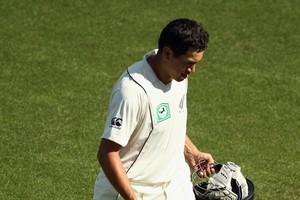 Just when you thought the days of New Zealand's test batting horror shows were a thing of the past, they delivered a doozy at Seddon Park yesterday.
In the space of a session, New Zealand lost all 10 second innings wickets for 74 to tumble to 110 all out, leaving Pakistan to mop up a 10-wicket win with two days to spare.
The second and final test starts at the Basin Reserve on Saturday. A pile of head-scratching, not to mention soul-searching, is ahead of the New Zealand players.
Specifically, it's the batsmen in the dog box. They turned in a stinker yesterday and need to take a collective hard look at themselves.
The bowlers toiled hard in demanding conditions, but were let down by teammates' catching and stumped by committed, conscientious Pakistani batting.
There was nothing wrong with the pitch. Pakistan's batsmen showed what a degree of application could produce.
There was nothing of the sort from New Zealand, and it was a depressing way for new coach John Wright's test coaching regime to start.
"We just played badly in the second innings. It was really poor and leaves a sour taste," a downcast captain Dan Vettori said last night.
He correctly paid tribute to a good bowling display by the visitors.
Man of the match, left-arm spinner Abdur Rehman, snaffled three for 24 from 15 overs - to go with three for 51 in the first innings - while left arm seamer Wahab Riaz turned in a sterling spell yesterday, taking three for 38 in 11 overs.
Vettori admitted harsh words had been spoken in the New Zealand dressing room last night.
"You have to look pretty closely at your own performance. There were a lot of harsh words [in the dressing room afterwards]. Wrighty stated quite emphatically things have to change.
"You can't keep putting those performances together. He wants to be part of the change, and obviously I do too. It's got to start at the base."
Pakistan won the test in stages.
The fifth wicket stand between captain Misbah-ul-Haq and Asad Shafiq of 149 turned a dicey situation into almost parity with New Zealand's first innings.
Wicketkeeper Adnan Akmal and Rehman then put on a further 76 to push Pakistan clear before a bracing 33 in 24 balls between bowlers Umar Gul and Tanvir Ahmed for the ninth wicket gave their bowlers something to work with.
The one piece of bad luck that went against New Zealand came when Brendon McCullum, not entirely at ease but at least scoring runs, was wrongly given caught down the legside off his hip.
That started the rot, Pakistan put a ring of close catchers in and New Zealand's batsmen did not learn from Misbah and Shafiq's lesson in being patient.
Ross Taylor's run-out, attempting a sharp single, from a fine direct hit by Gul at cover was a case in point, and it was not the only one.
Pakistan whooped with delight at each wicket. Even they could never have imagined the win coming so easily.
New Zealand lost four for one in 16 balls. The momentum was all travelling one way. And fast.
Pakistan's bowling was controlled, penetrative and they seized the moment superbly.
They can be a puzzling team at times, prone to serious slipups, but get them on a roll and they're as good as any team.
"We did not feel we would win today because the wicket was a bit flat and slow and it wasn't easy to get the batsmen out," Misbah said.
At least it shouldn't have been.