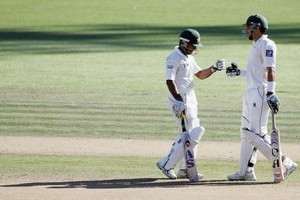 The opening test between New Zealand and Pakistan in Hamilton probably reflects what is to be expected from a series involving the sixth and eighth best teams in the world.
It is a reasonable standard of cricket, there have been no genuine stand-out performances, it has been a tad dull on a slowish pitch with both teams battling manfully under a 30-degree Waikato sun.
To make matters awkward for the Black Caps, they have failed in one of the first challenges set by the John Wright regime. The new coach wanted to see the side bat for four sessions and for the top six to stamp authority on their positions without having to rely on the lower order. They were remiss on both counts.
The search for a first test series victory at home since early 2006 - against a nation other than Bangladesh - still looks elusive, even against a Pakistan weakened by spot-fixing trials.
New Zealand's top six will not be overly proud of their first test innings on home soil this summer.
Four 50s rarely have the impact of a full hundred complemented by a series of decent partnerships. So it proved - New Zealand's best partnership of 84 was for the eighth wicket between Williamson and Southee.
Misbah ul-Haq (50 not out) and Asad Shafiq (74 not out) showed the value of a decent partnership later in the day. They added an unbeaten 128 for the fifth wicket, courtesy of disciplined batting which made the most of placid afternoon conditions to get Pakistan to 235-4.
They trail by 40 runs after New Zealand lasted 7.5 overs into the second day to be dismissed for 275, adding just 15 to their overnight score. That tally was arguably 100 runs short of suitable on what looks a sound batting wicket.
It didn't help that Southee failed to add to his 56 overnight, lasting just three balls. Williamson continued to bat commandingly - his back foot play, balanced stance and still head at the point of delivery remain textbook. He reached 50 for the third time in six test innings before getting tangled up and ballooning a catch going back to a short ball.
Pakistan should be proud of the way their bowling attack toiled as a unit. Pace bowlers Umar Gul and Tanvir Ahmed regularly kept the ball back of a length and made the New Zealand batsmen play. It is a credit to both bowlers, given they would normally be third seamers if their former pace bowling chums Mohammad Amir and Mohammad Asif were not on trial in Qatar for no-ball spot-fixing.
Staying on the bowling front, Northern Districts duo Brent Arnel and Tim Southee produced spells shortly after lunch that gave New Zealand hope. Arnel was the recipient of the wickets (2-53) but Southee bowled with tighter control, enabling his provincial teammate to pounce.
"It was a good period for us," Arnel said. "I enjoy bowling the other end to Tim; on other days he might have five wickets already."
Arnel said it was tough to find a decent line. If he erred onto middle and leg, he generally got punished through the legside.
"Our plan sometimes is to try to get them to work the straight one to get a chance at an lbw - but that can backfire and often it looks like you've bowled a bad ball."
First Arnel had Taufeeq Umar caught with a sharp catch at midwicket by Kane Williamson. That was a fortunate snare. Much like Brendon McCullum at the top of the New Zealand order, Umar prioritised strokemaking above all else and breezed to 54, the first 35 coming at a run a ball.
His square and late cutting was delightful. He shaped as the rock of the Pakistan innings but fizzled with another wasted 50 in a match full of them to date.
Umar paid tribute to those who carried on: "Misbah and Asad put us in the driving seat. This is now a paradise wicket for batsmen but we bowled well. We're looking for at least a 100-run lead."
Chris Martin also asked questions of the Pakistani batting at times. He coaxed Mohammad Hafeez into a drive and had him caught low to Tim McIntosh's right at second slip in the first over for a duck. He also picked up Azhad Ali in the sixth over after lunch for a careful 24.