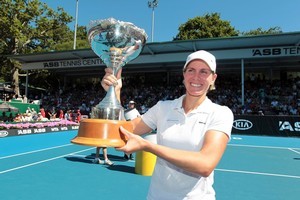 Greta Arn arrived in Auckland last week minus her luggage and any expectations but will leave needing another bag to fit in the ASB Classic trophy and a bulging winner's cheque.
The unheralded world No88 yesterday beat defending champion and world No23 Yanina Wickmayer 6-3 6-3 in 82 minutes, claiming her second WTA title.
Unseeded players aren't given any favours and Arn had to do it the hard way, beating the first (Maria Sharapova), second (Wickmayer), fourth (Julia Goerges) and eighth seeds (Sofia Arvidsson) along the way.
But Arn is used to doing things tough. Since turning professional in 1997, she had banked just US$587,555 before yesterday's winner's cheque of US$37,000.
Her world ranking was so poor at one time - she's only twice ended the year in the world's top 100 - she had to take a job in the media and the 31-year-old was also ripped off by an agent, which sent her spiralling into debt.
It's why yesterday's win will rank as the best of her career. When Wickmayer smacked a forehand into the net on match point, Arn dropped to the floor, held her head in her hands and didn't get up for about 15 seconds.
It was little wonder she could hardly find the words to explain what she was experiencing.
"Ooohh," she pondered delightfully. "It's unbelievable. I'm just so happy. It's my dream come true."
This dream had a happy ending because she deserved to win. She had a simple game plan against Wickmayer - get everything back and move her around the court - and executed it to perfection.
She claimed the first set in 34 minutes, winning the last point with an audacious lob volley, and didn't drop her serve. She was a little shaky serving for the match, producing two double faults, but held her nerve as Wickmayer lost hers.
The 21-year-old Wickmayer had her chances. She had two break points early in the second set but squandered both and became increasingly frustrated, almost petulant, as she could sense the title slipping away.
She was distraught at the end, realising she had missed out on an opportunity to claim her fourth WTA title. Arn could tell her chances don't come along that often.
"I just didn't play well today," Wickmayer said, citing mental fatigue after three tough three-set matches earlier in the week. "I made way too many mistakes. She played well and did what she had to do. She's an experienced player and it's not easy to play her. Congratulations to her but my match wasn't the way I planned it.
"I had one bad day but four really good ones. I beat four good players. Shit happens and I guess today wasn't my day. I still have a lot of years to come and those days are going to happen. It's OK. It's not the end of the world I lost the match.
"It's always bad when it's a final and you play bad because it's a good opportunity to win a title and that's what we work for. But that's the way it goes. Next week is another week."
Next week for Wickmayer is Sydney. Arn was supposed to play qualifiers but will now head straight to Melbourne to prepare for the Australian Open because qualifying is already under way.
It's a good problem to have and her world ranking is now likely to improve to somewhere in the 60s, a career high.
Arn has seen her ranking go down as her years advance. She has a new coach, new support team, new country (she switched allegiance from Germany to Hungary in 2008) and divides her time between Hungary and Rome. Simplicity and happiness, it seems, are the best of friends.
"I have the right people, finally at 31, behind me and I love to work with them," she said. "It's a nice feeling to have people taking care of me and that's not easy to find.
"I don't know [what impact this win will have on my career]. I'm not thinking about these things. I'm just doing my tennis and that's all I want to do. I want go out and play.
"I'm not thinking at all who I am, what I am. That's the best thing. If I'm not thinking, I'm playing the best tennis."
Clearly she wasn't thinking yesterday.