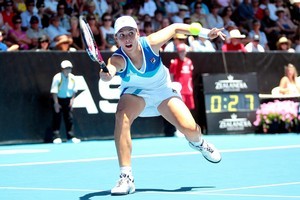 Despite her good doubles showing at the ASB Classic last week, Marina Erakovic remains singularly focused.
After bombing out in the singles, Erakovic and Swedish partner Sofia Arvidsson went all the way to the doubles final, before losing 6-3 6-0 to top seeds Kveta Peschke and Katerina Srebotnik yesterday.
As a finalist, Erakovic will bank around 200 ranking points, lifting her ranking 20 places to around 75 while she remains berthed at 333 in singles.
"I don't think I will ever become a doubles specialist," maintains Erakovic. "I want to play singles."
Erakovic will be limited to ITF singles events for the foreseeable future but is confident she can navigate a way back.
"I'm sure I can play very good tennis; I've done it in the past," says Erakovic.
"I believe in myself and think I will get back up there. Things can change a lot quicker than you think."
Erakovic's confidence is admirable, given her last win over a top 100 player came in Birmingham last June. It is a tough balance though - if she goes deep into a tournament in doubles it could preclude her from singles qualifying for the following week's event.
There is also a striking contrast in prize money, best illustrated in Canada last year. The New Zealander reached the semifinals in both singles and doubles but banked $2873 and $500 respectively.
Erakovic and Arvidsson started promisingly yesterday, breaking the European pair in the first game. It was downhill from there, as the experience of the world No 2 combination shone through. They completed the win in just 51 minutes.
"It was a really tough match," reflected Erakovic. "The first set I thought we were pretty decent but they got better and better as the match went on. They didn't even serve that great but the net coverage made up for it."
Srebotnik and Peschke have 39 doubles titles between them and it was their third triumph together.
"We followed our strategy and always felt like it was under control," said Peschke.
Srebotnik, who was also the 2005 ASB Classic singles and doubles champion, has recently become a doubles specialist, after injury saw her singles ranking plummet into the 300s. She couldn't come back and decided to forgo singles.
"I couldn't do it but Marina is different," said Srebotnik. "She is young and can afford to focus on the singles for a while and pick up the doubles later."
Erakovic will hear in the next few days if she will receive a wildcard into the Australian Open qualifying, though she is "not that hopeful".
She also plans to play doubles in Melbourne with regular Thai partner Tamarine Tanasugarn, with whom she won in Thailand last year.