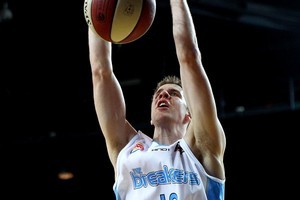 The Breakers know they will be without at least one player on their roster next season with Paul Henare's retirement - but are unsure if they will retain the services of both Kirk Penney and Tom Abercrombie.
While the North Shore club are intent on winning their first Australian NBL title - and the league leaders had a tricky assignment in Adelaide late last night - they can't afford only to focus on this season.
They are in a reasonably strong position. They are one of the most settled clubs in the Australian NBL, both on and off the court, and have the luxury of having most of their players tied down for another season. CJ Bruton, Mika Vukona and Dillon Boucher have one year left beyond this season on their contracts while Corey Webster and Alex Pledger have two years remaining. Imports are signed on a year-to-year basis.
But uncertainty hovers over Abercrombie and Penney.
Abercrombie has two years left but has out-clauses which allow him to pick up a contract in either Europe or the NBA.
The Breakers have an option on Penney for another year but that is largely dependent on his plans to try his luck again with the NBA or return to Europe.
Abercrombie has made no secret of his desire to play overseas and there was genuine interest in the 1.98m swingman after last year's world championships. Speculation also emerged last month the Houston Rockets were keeping tabs on the 23-year-old.
Abercrombie is one of the most talented players to emerge from this country in recent times and has an eye for the spectacular. He is averaging 10.2 points, 5.2 rebounds and 1.2 assists per game this season; largely off the bench.
The Breakers are relaxed about 2011-12, especially with so many players returning and youngsters like BJ Anthony, Josh Bloxham and Leon Henry emerging, but know they will need to talk to Abercrombie and Penney about their plans.
"We won't do too much until after the season because we have so many guys on contract," Breakers general manager Richard Clarke said. "Tom has some out-clauses to get to Europe and the NBA. Tom can definitely be a big-time player. Whether it's the right time for him to move or not, there's still a long way to go this season.
"Coming out of the world champs, there was definitely interest and there has been talk of the Rockets and other NBA clubs looking at him. Tom has to play as an import in Europe and that's the challenge.
"What we need to do is sit down with him and work out what he wants to do and explore some of those options and how we can help him."
What he does might also depend on what Penney decides, as Abercrombie is likely to play a more important role if Penney moves on. The 30-year-old former league MVP might have missed his chance to return to the NBA after a trial last year. He could decide to return to Europe, where he spent three years playing in Israel, Lithuania and Germany, or re-commit to New Zealand.
"Best-case scenario is they will all be back next season," Clarke said.