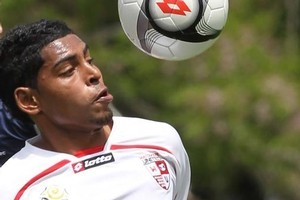 Waitakere set a new national league record with their win over Otago at Fred Taylor Park yesterday.
It is the first time a team have started the season with eight wins in a row. Waitakere's winning streak extends even further because they won a semifinal and the grand final at the end of last season.
But in the blistering heat, there were times when that record looked shaky. They were gifted a goal in the second minute when a left wing corner by Allan Pearce eluded goalkeeper Adam Highfield and ended up in the Otago net.
Waitakere fans probably smelt a rout in the offing. But Otago are a much tougher proposition these days. Nathan Knox bustled Waitakere and three times Phil Ruggles flirted with the offside flag.
In the 12th minute, it was third time lucky and, as the flag stayed down, Ruggles made no mistake with a clinical finish.
Waitakere created plenty of chances but were kept scoreless until the break by a combination of some poor finishing and brave defending, particularly by Highfield.
Mike Gwyther, thwarted by Highfield twice, provided the go-ahead goal when he fastened on to a cross from Pearce and hammered the ball home.
The heat clearly told and Otago had used all their substitutes when Paul Seaman limped off in the closing minutes. Waitakere coach Neil Emblen, who had just come on as a substitute, took advantage of a miskick in the Otago defence to add the third goal in the last minute of regular time.
It was a brave effort by Otago, who came into the game without one of their most experienced players, the suspended Andy Coburn. Coach Malcolm Fleming was disappointed but pleased with the way his team responded.
"Without Coburn, we were on a hiding to nothing," he said. "I think we deserved to lose 2-1 but not 3-1. Still, if they'd converted their half-chances, it could have been a lot more.
"Nathan Knox, as always, was a real force for us and Phil Ruggles did well until he was injured. He may have a broken jaw after a collision."
Alistair Rickerby, who came on as a substitute, left after a short time with a possible broken collarbone.
Emblen was happy to have won eight but was not getting too excited at this stage.
"We'll just tick them off one by one," he said. "The next two weeks will be pivotal. We've got Auckland at home and then Wellington away. This will give us confidence for those."
Also yesterday, Milos Nikolic scored in the 76th minute to give Waikato FC a 1-0 win over Hawke's Bay United.