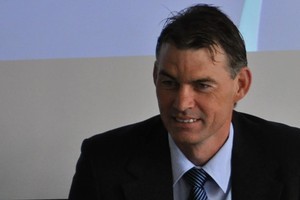 New Zealand have nominated two candidates to take over from Reynald Temarii as Oceania president but have no real desire, and little chance, of winning.
NZF chairman Frank van Hattum and board member Fred de Jong, who is also Oceania vice-president, have been nominated to stand against acting Oceania president David Chung from Papua New Guinea when the Oceania congress meet in American Samoa next weekend.
They have put their names forward largely to have a voice at the meeting amid rumours the island nations intend squeezing New Zealand off the six-member executive and that Chung might be prepared to stand down as president in November so Temarii can regain control once his one-year suspension is over.
Fifa suspended Temarii from all football for 12 months after he was caught up in a Sunday Times sting around allegations of corruption regarding the 2018 and 2022 World Cup venue bids.
"We have no great desire to be president of OFC but there should be choice," van Hattum said. "We were a bit concerned there is never really any choice and it was more to make sure we can get speaking rights at the conference and ensure the OFC is governed correctly and we can go about re-establishing credibility.
"Most of the deals have been done, we understand. I have no doubts we won't get any votes at all other than our own vote.
"We understand there's a bit of a move not to have us on the executive and, if that's the case, we would be very, very concerned.
"There are all sorts of accusations that we are no longer a supporter of OFC, that we're the enemy. It's crap. We are an avid supporter of OFC.
"What we want is for OFC to have credibility on the field and I think we have achieved that at the World Cups, junior world cups and Club World Cup. We also need total credibility off the field so there are no further accusations of dodgy dealings."
Fifa president Sepp Blatter and general secretary Jerome Valcke are expected to attend the Oceania congress, so it's an ideal time for New Zealand to get across their message.
Oceania is made up of 11 nations, with New Zealand by far the strongest on the field, but all the power rests with the 10 island territories in a highly political landscape.
The move to block New Zealand from the executive would help smooth Temarii's return to the presidency and Van Hattum has heard "strong rumours" Chung is planning to step aside in November.
Although van Hattum said Temarii did a good job after taking over in 2004, he believed whoever was elected president next weekend should serve out the four-year term.
"The person who is standing for election should stand up for the four years and anything else is a nonsense," he said. "It would be a waste of $30,000-$50,000 to run another congress only to bring in another change again. I'm sure they [the island representatives] will say it's not the case but we will see what happens in November."