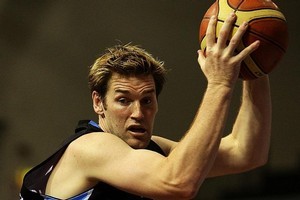 They might be leading the competition, but the New Zealand Breakers are far from complacent as they head across the Tasman to take on the Adelaide 36ers tonight.
Veteran forward Dillon Boucher knows what it is to succeed: the former Tall Black has won leagues in both Australia and New Zealand, and played with some of the best players in this part of the world.
But while he's pleased with the team's start to the Australian National Basketball League season, Boucher said the job was certainly nowhere near done.
"Things are good at the moment, any time you are on top of table you are doing something right.
"It's good to be in that position now, but when it becomes great is if you are on top at the end of the season," Boucher said.
"Right now, yes we're happy but not content. We know there is a lot of work to do between now and the time the championship is decided."
He said the team were learning all the time and knew from their three heavy losses this season that nothing less than their A game would get a win whenever they take the court.
"The games we lost we lost badly. This makes us all the more conscious that if we don't bring our best game to the gym, then teams are going to beat us and beat us convincingly.
"There's just no margin. We have to play well week in, week out to get the job done."
Boucher said the team had been underperforming on the boards in particular, something they had worked on in preparation for the Adelaide clash. "In every loss, different things have appeared but lately it is rebounding. We have to tidy up that area, especially as we are not tall and are always going to struggle against bigger teams.
"It might be perceived as a weakness, but we want to turn it into a strength."
He said an influx of new players to the league had made the second part of the season more intriguing.
Adelaide had two or three new acquisitions, Boucher said, and the Breakers would be looking to shut them out of the game. "I'm expecting them to fire up on their home court, so we must get on top early and keep the crowd out of it."
Breakers point guard CJ Bruton is back in action after an elbow injury.
- NZPA