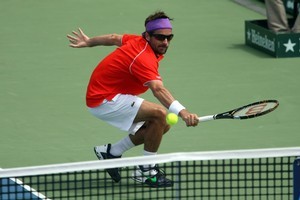 Crowd favourite and 2010 finalist Arnaud Clement of France has been awarded the contentious third wildcard spot for next week's Heineken Open.
Clement was a point away from claiming last year's title before eventually succumbing to US giant John Isner, but his current ranking of 78 was not good enough to secure his place in the main draw this year.
However, after being knocked out of the first round of the Brisbane International this week he was handed the opportunity to squeeze in some extra match play in Auckland.
Heineken Open tournament director Richard Palmer had been holding on to a wildcard for Robin Soderling, at the Swedish player's request, on the off-chance the world No 5 suffered an early exit in Brisbane.
But while Clement is ranked more than 70 places below Soderling, Palmer believes he has found a handy fall-back option.
Clement, with his trademark bandanna and sunglasses, proved popular with the Stanley St faithful last year and Palmer is expecting the Frenchman to pull in the crowds next week.
"He did a lot for the tournament last year, and I think he will bring something to the tournament this year as well," said Palmer.
"He's ranked around the 80-mark, but as we saw the reaction of the public last year, they flocked down to the courts he was playing on and went all the way to the final."
With Clement snapping up the final wildcard, Kiwi hopefuls Dan King-Turner and Rubin Statham will have to battle through qualifying if they are to secure their place in the main draw of their home tournament.
Otherwise, the local interest will centre on Kiwi No 1 Michael Venus, who was awarded a wildcard into the singles draw and Marcus Daniell, who will get the opportunity to defend his doubles title. He will this year team up with New Zealand tennis' Russian import Artem Sitak.
But this will be of little consolation for King-Turner and Statham, who Palmer admits are extremely dissatisfied with the decision.
"Wildcards tend to be pretty emotional for people. As tournament director it's one of the parts of the job that I don't like," said Palmer.
"When it comes to wildcards they only really understand their positions to be honest. They make a case, and that's fair enough. It's not easy, I'd like to give them both wildcards, but I can't, so it's over to them.
"They've got two ways of going. They could pack a sad and sulk about it or else they could say 'well stuff you' and go out there and come through qualifying and prove me wrong."
But there is unlikely to be much public sympathy for King-Turner and Statham. Taking the emotion out of it, it should have been a no-brainer for Palmer when you have to decide between including last year's beaten finalist, or giving the spot to an out-of-form Kiwi.
"Dan is coming off an injury, he's only just played a couple of matches up in Noumea, which is at a lower level and I don't think at this point it's justifiable to throw him in to the main draw when he has had so little match play.
"Rubin has had a very good year for New Zealand in the Davis Cup, but his ranking has slipped to about 450."
The qualifying rounds of the Heineken Open will begin today in Albany, and Palmer said he will give the Kiwi pair qualifying wildcards if they can't get through by virtue of their ranking.
Meanwhile, the first of the Heineken Open stars have begun trickling in to the Auckland Tennis Centre, with regular visitors Tommy Robredo of Spain, Argentine Juan Monaco and Brazil's Thomaz Belluci getting in some practice on the warm-up courts yesterday.