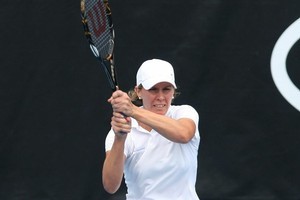 Forty-eight hours ago, she was expected to be roadkill in the path of the Maria Sharapova juggernaut; today, Greta Arn's final is being beamed live into the homes of an expectant Hungarian public. Such are the vagaries of this sporting life.
At least she had the decency to act surprised.
"When I see the draw I'm like, 'Okay, maybe quarter-final, not bad,"' Arn said. "But then I have Maria [Sharapova] probably and it's over. It's a surprise for me too.
"I beat Maria, I beat the queen ... but because I beat Maria it's not a guarantee I'm going to win this tournament. It's a good thing, it's a positive thing, it's an unbelievable thing, but it's not a guarantee."
The deal to screen the final against Belgium's Yanina Wickmayer - she beat Shuai Peng in the first semifinal 3-6, 7-6 (3), 7-5 - in Hungary came as news to the 88th-ranked Arn in the wake of her comfortable semifinal victory over No 4-seed Julia Goerges. Her coach hasn't even seen her play in this tournament yet.
Rome resident Vittorio Magnelli, husband of former tour player Sandrine Testud, was informed of Arn's progress by telephone.
"He's very happy. I let him sleep and then later on I will talk to him.
"It's not on television but he can see the game online. I'm sure he did not," Arn joked. "But it's okay. He's seen so many matches."
Arn is collecting some decent scalps at the ASB Classic and rated her victory yesterday over Goerges as harder than the quarter-final shock against Sharapova.
"Maybe it sounds strange, but it was much harder than against Maria. Julia is a very dangerous player. She's a newcomer and playing very consistently. She's improving her game and she will be definitely be soon in the top 20. She is very difficult to play. She's aggressive and moves well.
"I'm just more mature than her and that was the point. I'm nine years older and I know at whatever time what I need to play. She still has to learn that."
It's been more than three years since she made a WTA final, at Estoril, and on that occasion she wasn't expected to beat top-10 player Victoria Azarenka.
She did.
Today, rankings and history would again suggest she shouldn't beat the defending champion, but she has two things on her side: nobody expects her to win and she expects Wickmayer's semifinal grind to have had some effect.
"She was pretty tired today. I don't know how how she will recover but she seems to be pretty fit. I can't look in her head and her body ... but I feel great. I'm fit."
Unlike last year's tournament, when Wickmayer breezed to the title without dropping a set, she has had a much more difficult run this time.
The 21-year-old has been taken to three sets in three of her four matches, including yesterday's energy-sapping semifinal, and she admits it has taken its toll.
"It took me a lot of games, a lot of sets, a lot of hours on the court to make it to the final. I'm not really focused on defending my title.
"I'm just really happy to be in the final after a really tough tournament, so I'm just going to try to go out there and bring my best tennis."
It took Wickmayer nearly three hours to beat Peng - the longest game of the tournament so far - after pulling off a remarkable escape act.
After easily winning the opening set, Peng, who dispatched one of the tournament favourites, Svetlana Kuznetsova, in the second round, had the opportunity to serve for the match leading 5-4 in the second set.
But the Belgian held her nerve, breaking Peng to later set up a second set tie-break.
"I just took all the energy I had. I thought it could be the last game I had so I gave it everything and see what happens.
"So I went for every shot and tried to be very aggressive, and that's how I got through it," she said.
Wickmayer knows little about her final opponent.
She won her only previous meeting with Arn last August in Cincinnati, but recalls little of the match.
"Anyone who reaches the final has played well and had a good week.
The fact she beat Maria Sharapova means she is a dangerous opponent."
Greta Arn Hungary
Age: 31 Seed: Unseeded
Ranking: 88Style: Right-handed, two-handed backhand
Round 1: bt Zuzana Ondraskova (Czech Rep) 6-1, 6-0
Round 2: bt Sofia Arvidsson (Sweden) 4-6, 7-5, 7-5
QF: bt Maria Sharapova (Russia) 6-3, 7-5
SF: bt Julia Goerges (Germany) 7-6 (3), 6-3
Best match: It was relegated to the back courts, but Arn's three-set marathon against eighth-seed Arvidsson proved her resilience and set her up for the rest of the tournament.
Luckiest break: Coming up against an utterly listless Sharapova in the quarter-final. No offence to Arn, but their respective careers suggest she would struggle to live on the same court as an interested Sharapova.
Decibel-meter rating: Churchmouse. Arn is old school, she keeps her thoughts on court, and the air in her lungs, to herself.
X-factor: She's the rags-to-riches story of the tournament. She is - by the width of a court and more - the most engaging post-match interview. On the downside, she's not Maria.
Yanina Wickmayer Belgium
Age: 21 Seed: 2
Ranking: 23Style: Right-handed, two-handed backhand
Round 1: bt Dinara Safina (Russia) 6-3, 6-7(2), 6-1
Round 2: bt Sabine Lisicki (Germany) 6-2, 3-6, 6-2
QF: bt Simona Halep (Romania) 6-0, 6-2
SF: bt Peng Shuai (China) 3-6, 7-6(3), 7-5
Best match: Wickmayer put her hand up as the one to watch with a brilliant performance in her opening-round win over former world No 1 Dinara Safina - a game that featured some of the best power-hitting we've seen all week.
Lucky break: Drawing Safina in the first round. Had the Russian, whose 2010 season was hampered by injury, been able to gain some momentum in the tournament, she would have been tough to stop.
Decibel-meter rating: Loud and proud. Wickmayer has even named her dog "Whoop-pee" - after her trademark yell on the court. And she's not afraid to let the umpire know if she doesn't like a call.
X-factor: She developed the reputation of being a bit of an ice-queen on her last visit, but we'll put that down to that nasty drug scandal that was troubling her at the time. This year she's been much more engaging.