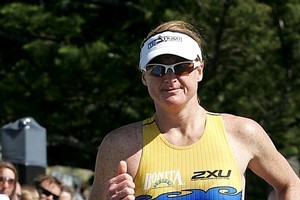 New Zealand veteran Jo Lawn must counter another strong Australian assault if she is to win a third Port of Tauranga half-triathlon title at Mt Maunganui on Saturday.
Australian women have won five times in the past decade and are sending another strong contingent, including three-time winner Rebekah Keat, Nicole Ward, Carrie Lester and former New Zealander Anna Cleaver, making a return to the sport at the top level.
With defending champion Sam Warriner bypassing the event after just returning to training, Lawn will assume the lead role for New Zealand.
She won back-to-back titles in 2006 and 2007, was runner-up in 2008 and 2009 and fourth last year in the race she uses as a key barometer for her progress towards Ironman NZ in March.
"In the earlier times here it was about the endurance athletes dominating," Lawn said. "But in more recent times, there have been more of the Olympic-distance athletes coming up to the Half distance.
"I've always said that this course suits those shorter-course specialists more. Really for me it is about having a really good race and ensuring I have ticked all the boxes with Ironman New Zealand coming up."
Keat has been a highly popular figure at Mt Maunganui, where she gained international attention by winning three times straight from 2002.
The Gold Coast athlete won Ironman Australia three years ago. She was third at Mt Maunganui last year with the second-best run time, then runner-up in Ironman Australia and the winner in Ironman Louisville.
Ward mixes a high-profile banking career with a career as a professional triathlete. The Sydneysider did not find triathlon until she was 29.
She turned professional four years ago and has enjoyed podium finishes around the world and top-six finishes at Ironman events in the US and NZ.
Cleaver was a former national age-group swim champion in New Zealand before moving to Sydney to concentrate on corporate life for the past six years. She returned to multisport last year, coming fifth at the 70.3 Singapore half ironman then winning the Port Macquarie Half in November.
The men's battle features teenager Michael Poole defending his title against a field including seven-time winner Cameron Brown and 2008 winner Kieran Doe.
- NZPA