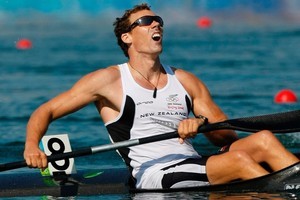 The saddest thing about the retirement of Ben Fouhy yesterday was that there were no winners.
Those happy that the nettlesome Fouhy has removed himself from kayaking would do well to look up the meaning of pyrrhic victory.
Everyone loses here. The list is long and distinguished and starts with the national sports funding agency Sparc.
They were late on the scene of the Canoe Racing NZ crash and, like the ambulance at the bottom of the cliff, went through the motions of administering life support without fully committing themselves to the process.
Worse, having looked as if they might have stitched something together that would have kept one of the country's premier athletes in his sport, they appear to have blown with the wind when the pressure came on.
It is understood Sparc believed the rules of engagement with Fouhy changed when he did some work with CRNZ coach Gordon Walker, signalling a reintegration into the national programme that cancelled out the need for ring-fenced funding.
Nobody in the Fouhy camp believes that argument bears any serious scrutiny.
Given Murray McCully, the Minister for Sport and Recreation, has a personal interest in this case, might there be a few "please explains" issued from Bowen House.
Canoe Racing NZ loses, big time.
Their funding is based to a large extent on results. Take away your best chance of medals at world championships and Olympics and you are hardly strengthening your case.
As an organisation they have been made to look riven and ego driven.
Look at it this way: if you were a parent of a promising athlete, would you feel as if CRNZ was capable of providing a supportive sporting pathway.
Ian Ferguson and his fellow Olympic-legend pals lose.
Systematically destroying somebody's credibility just because they don't believe in your methods and abilities as a coach doesn't make you hard-nosed, or right. All it does is highlight the fact that you have been unable to reproduce as coaches what you managed as athletes.
Steven Ferguson loses.
The only guy in New Zealand that can really provide him with a benchmark to his progress, the only guy he could have realistically teamed up with in a K2 to win medals, no longer wants a bar of the sport.
Fouhy loses, obviously. He has denied himself the chance to be the best kayaker he could be, to add to his Olympic silver medal and world championship title.
Not only that, he has been painted as truculent and selfish.
When Fouhy was talking through his decision to retire yesterday, he gave a fascinating insight into his complex character.
"When I won the world title I was in something like heaven for a week," he said. "But after a while I realised there were plenty of people out there doing a lot of special things and winning a kayaking world championship was not right up there among them."
Once you've won a world championship, or an Olympic medal, he continued, satisfaction came not by winning more titles, but by "evolving as an athlete, to keep learning and getting better".
Kayaking, and Sparc, were not allowing him to do that. Perhaps ironman triathlons, where his future looks to be heading, will.
If that's the case, then on reflection and with great irony, perhaps Fouhy will emerge as the only winner from this sorry mess.