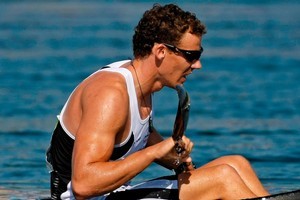 Sparc this. Sparc that.
As Ben Fouhy paddles away into the sunset, we might ponder who exactly gave the former world champion canoeist this push in the wrong direction by whipping away his funding.
Fouhy is, quite famously, intense, and maybe not the easiest to work with. Far from disqualifying him as a world class athlete, this can make for an outstanding competitor.
Sparc, whoever they may be, were actually on the right track when they agreed to fund Fouhy in Europe, separate from the national squad. This was enlightened, because not everyone fits into a squad environment.
In Fouhy's case, the need to operate outside the system had become mandatory. His serious spats with the national administration, especially coach and canoeing legend Ian Ferguson, were well known.
Blanket regimes may have brought home medals under communist dictatorships.
They worked a treat when ruthless coaches could frogmarch all the best young talent into gymnasiums, where they drilled the youngsters to exhaustion, drilled drugs into them, then spat the failures back into their bleak societies.
There is no serious evidence however that a government-funded system has done much for New Zealand sport, in encouraging growth or success on the world stage.
Since Sparc - the latest funding conduit - arrived in 2003, things have only got worse.
Tennis, golf, athletics, cricket, motor racing, speedway, swimming, triathlons, yachting, equestrian, canoeing ... all of these and probably many more have seen far better days, and usually in the era when those who dreamed the dream did so without the government's help and guidance.
The successors to Bruce McLaren, Denny Hulme, Chris Amon, John Walker, Peter Snell, Yvette Williams, Ivan Mauger, Russell Coutts, Onny Parun, Belinda Caldwell, Richard Hadlee, Mark Todd, Danyon Loader, Erin Baker and many, many more - where have they all gone?
This is not a simple argument of course, and there are different stories tangled in this web. But the bottom line is that Sparc, and the environment it has encouraged, is hardly a roaring success.
Sparc has certainly not earned the right to tell Ben Fouhy what to do with our money.
Even in rugby, where the New Zealand Rugby Union is the state, the All Blacks have failed to make a World Cup final in three attempts during the professional era, compared with one win and one final appearance in the days of shamateurism.
If you accept that the NZRU is in complete command, then the crimes include the destruction of Auckland as the provincial powerhouse of world rugby.
New Zealand sport reeks of problems brought about by an obsession with central control.
Valerie Adams has shown the way, operating as a lone wolf, and choosing her own coaches.
Then you have the most surprisingly successful New Zealand team of recent times, the All Whites, consisting of self-made professionals, men who forged their own way in the toughest of environments.
At the very least, there should be room for manoeuvre, and Sparc was right to contemplate allowing Fouhy to do things his way.
Then Sparc got cold feet, reneged on funding Fouhy's separate campaign in Europe, wanted him back in the national camp, and now the frustrated 31-year-old has had enough and retired.
He might be back of course. This has happened in the past. Maybe a younger Fouhy would have carried on, kept doing things his way, on his terms, found his own money.
For now though, we're a good man and a rare 2012 Olympic medal prospect down because - quite rightly - he feels let down.
I'm firmly in the Fouhy camp, not because he was necessarily right and Ferguson and co were automatically wrong.
People don't get along sometimes. That's life. World class athletes should choose their own coaches, their own methods, their own styles. Fouhy is a world record holder, a world champion and Olympic silver medallist after all, and still among the best in the business.
Sparc is a political animal in charge of sport. This does not bode well.
This faceless supplier of money should have given Fouhy his share of the loot and let him get on with the job. He'd likely do a better job than the mass of national institutions which - apart from exceptions such as rowing and cycling - are struggling.
Backyard improvisation can no longer take on the world, but rugged individualism still can.
*The absolutely positively Australian campaign is in full swing, led by commentator Ian Healy.
Australian cricket has fallen so low that the mood over the ditch was lifted into the heavens by a new number three batsman, Usman Khawaja, who made 37 in the Sydney test.
The side story to this cameo, which former test wicketkeeper Healy in particular turned into a full feature, was the sight of Khawaja's mother in the stands constantly in prayer - something Australian cricket doesn't have right now.
Healy is far from enchanting. His gushing needs silencing.
Evenhanded television commentary and Australian cricket are not natural bedfellows, although this was partly understandable when the Baggy Greens were crushing all comers.
Khawaja played a beautiful cross-bat shot a couple of balls into his test career, this being greeted by accolades worthy of a century.
Parts of the Aussie media carried on with the assault the next day. Khawaja is already on the way to a glorious career.
Batsmen with far better starts than 37 have had their techniques and temperaments picked apart in the test arena. Australian cricket used to be more demanding, and successful.
There was a time when just about every Australian newcomer was a sure bet, but this is not the case any more.
The bid to regain the Ashes is over - Australia has been smashed at home by England, who secured the urn before the fifth test began.
The Australian cricket peacock is flapping though.
Led by the sickly sweet Englishman Mark Nicholas, the commentators are going through the motions leaning on banter and tired yarns as this Australian team unravels.
The combined commentary voice has not reflected the scale of Australia's decline nor England's victory, and certainly not in a way that matches their triumphant analysis and descriptions during Australia's golden years.
As I've said before, we have missed the influence of a real English observer, such as the sharp wit and tongue of Nasser Hussain, or even the warm and eccentric David "Bumble" Lloyd.
Having endured years of Australian crowing, someone needed to rub at least a little salt into those widening wounds, not to mention admitting the wounds were there.
*The road to rugby's World Cup will be a long trudge if those Sky advertisements accompany us the whole way. For those lucky enough not to have been bombarded yet, the ads feature an archetypal sergeant major drilling a platoon of camera operators in readiness for the rugby war.
If the purpose of these ads is to remind people that the Cup takes place in New Zealand this year, then rest easy Sky because the word is already out. We'll all be barking if that bloke keeps barking orders. Sarge should be given an immediate and dishonourable discharge.