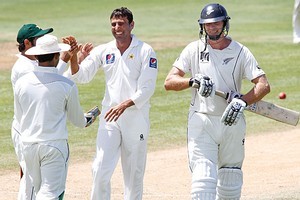 Now for the tests. The three-day warmup game for Pakistan and the bulk of the New Zealand test squad played out in an entirely predictable fashion on another hot day at Cobham Oval yesterday.
There was a bit of batting for both teams and bowling arms getting rolled over one last time before the teams head to Hamilton for the first test starting at Seddon Park on Friday.
When the game was called off at tea yesterday, the New Zealand XI were 111 for four, having established a 98-run first innings lead over the tourists before lunch.
But the exercise for both teams was all about reacquainting themselves with the longer form of the game after both have had limited-over cricket as the focus of late.
Several players took advantage of the match to get a decent look at what they will face on Friday, none more so than Tim McIntosh.
The New Zealand opening batsman got full value from the game, following his half century over almost three hours in the first innings with another 2h 14m at the crease yesterday as he grafted 26.
"It was nice to get some time in the middle," he said.
"I haven't had too much cricket recently and a few of us have gone out and applied ourselves and been able to see a bit of their attack."
McIntosh's last innings other than club cricket was in the third test against India at Nagpur late in November, so it's no wonder he relished the last three days.
He was suitably impressed with what he saw of the Pakistanis and felt their fast-medium quartet had bent their backs as they push for test selection.
"They've got some good bowlers with a bit of pace," he said.
"They hit the wicket pretty hard. I thought Umar Gul was the pick of their bowlers and Wahab Riaz could bump up his pace when he wanted to. They'll be a good test."
Pakistan's captain Misbah-ul-Haq, who started the day on 99, finished 126 not out in a highly worthwhile innings with the test in mind. He put on a bright 51 for the last wicket with Tanvir Ahmed.
In half an hour before lunch, Gul snapped up Brendon McCullum and Kane Williamson in one over. McCullum was bowled by a ball which kept low; Williamson lost his off bail to one which came back.
But McIntosh knuckled down, James Franklin had some useful time in the middle and so did wicketkeeper Reece Young, who finished 19 not out over 72 minutes.
Pakistan's main concern will be a lack of runs from their top order batsmen.
New Zealand's players headed to Hamilton last night to meet up with three batsmen not in Whangarei, Martin Guptill, Ross Taylor and Jesse Ryder.
There has been a late change to the 13-strong squad, with Auckland's Daryl Tuffey coming in for the injured left armer Andy McKay.
McKay has picked up a side strain and while he is bowling is not ready to be considered for test selection.
Chris Martin and Tim Southee seem certain selections, with the industrious Brent Arnel the likely third seamer, unless Tuffey can show in the next two days in the nets that he's worth a rapid promotion.
SCOREBOARD
New Zealand XI
First innings 380
Second innings 4-111
Pakistan
First innings 287