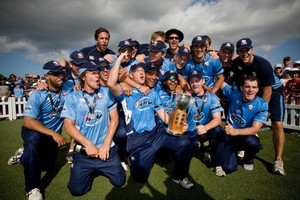 Michael Bates produced an opening over that dreams are made of as Auckland beat Central Districts by four runs at Colin Maiden Park yesterday to win the national T20 title and a potential place in the Champions League.
Chasing Auckland's modest 158 for eight, the defending champions mustered 154 for nine, a brave effort considering their start.
With his first ball, left-arm paceman Bates had former Black Cap Peter Ingram caught at third man.
Central Districts captain Jamie How was caught at first slip off the next and English professional Ian Blackwell was brilliantly caught at midwicket by Roneel Hira as the 27-year-old took three wickets in four balls.
Auckland captain Gareth Hopkins was happy to name Bates as his man of the series but the bowler was more modest.
"To be honest, that first ball was short and wide," he said. "The second was good but the ball that got the third wicket was a half-volley on leg stump.
"I took four for 11 for Auckland in the warm-up game against Pakistan but I don't think that counts. So four for 18 today is my best."
The win means Auckland will be New Zealand's representative in the Indian Champions League in which Otago and Central Districts have failed to win a game in the past two seasons. Details of the makeup and timing of the competition still have to be confirmed.
Auckland got good value from English professional Jimmy Adams who top-scored with 62 off 43 balls with five fours and a six.
He opened the innings and was fourth out after sharing productive partnerships with Colin de Grandhomme (31) and Colin Munro (29).
But from 125 for four, the innings tailed off in the face of some penetrative bowling by Michael Mason, who finished with three for 24 from his four overs.
Fellow medium-pacer Doug Bracewell bowled a miserly three overs for 14 and two wickets.
Central's disastrous start had some of the crowd writing off their chances with only an over bowled.
But Ross Taylor, who completely demoralised Auckland in the final last year with 80 including eight sixes at Pukekura Park, knuckled down with English professional Mike Yardy to rebuild the innings.
Taylor survived a very close run-out decision when he was on 20 but the pair added 51 before Yardy was well caught at deep midwicket by Kyle Mills off Hira. Taylor was caught in the same position for 44 and at 72 for 6, Central looked done.
But spirited hitting by Bracewell (27) and Kruger Van Wyk (33) brought the target agonisingly close. Bates came back to bowl a parsimonious over and contributed to Van Wyk's run-out with a powerful throw from the deep - "I just threw it as hard as I could.
"We pride ourselves on our fielding," said Hopkins. "We've done a lot of work to set a standard and we want to be the best fielding unit in the competition.
"When you win things like this you need an extended squad. You can't overlook the efforts of those who weren't playing today. They're here today and they'll be celebrating with us."
Among those who missed out on the HRV Cup final were batsmen Anaru Kitchen and Dusan Hakaraia, who had key roles in some of the early victories. Lou Vincent carried the captaincy while Hopkins was away with the Black Caps. Jimmy Adams proved an asset on and off the field.
"Today he showed the kind of player he is. But the benefit to us has not only been the runs he's got but you see it in the changing room where he's been great."
Looking ahead to the prospect of the Champions League, Hopkins was cautiously optimistic and confident his team could handle whatever eventuated.
Central earned about US$200,000 for their participation, a sum shared with the other provinces. They also had a bonus when Bangalore stumped up a similar amount to snare Taylor's services.