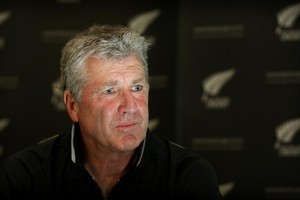 As far as timing and delegation goes as a cricket coach, John Wright can be a master.
In his time with India, he claimed to have learned three phrases of Hindi - chalo (let's go), jaldi (quickly) and A.C. bund (air conditioning off). Yet Hindi was the main dialect in the dressing room.
So during the Australian series of 2001 when India followed on 274 runs behind in the second test, he sent manager and former Indian opener Chetan Chauhan to patiently explain to Rahul Dravid in the mother tongue that he was being switched with VVS Laxman from three to six in the order. Dravid took the news well and the results were stunning. Laxman made 281, Dravid 180 and India became just the third test team in history to win following-on. They won the series and Wright's employment was secure.
It is those sorts of instinctive decisions the Black Caps will have to learn to trust heading into the World Cup. One such instance was James Franklin being used at first drop in the Twenty20 internationals against Pakistan.
He had considerable success there at county level for Gloucestershire in England and fitted in there for Wellington.
Such moves are subtle but Chauhan says they were part of Wright's intuition with India, even if they didn't share the same language.
"The players found him hard-working and sincere," Chauhan says. "The idea of helping the boys do well was always foremost in his mind.
"He was very involved - he would talk to players and work on their techniques. At meetings he would often get me to translate from English to Hindi so his thoughts could enter the players' hearts and minds."
Chauhan says central to the Wright philosophy was adapting to his environment.
"He understood there were vast differences between being brought up in New Zealand and India, so he limited his input to cricket ... not religion or culture."
However, Chauhan says if Wright did not like something, he still wouldn't hesitate to tell the team, captain Sourav Ganguly included.
"He would argue with him [Ganguly] in private but it was always for the betterment of the team. It was constructive and positive. He didn't believe in constant fighting. He was polite but firm and didn't shout. It had the right effect."
Part of that tolerant, measured approach can be traced back to his initial first-class coaching assignment with Kent. His second autobiography Indian Summers details how he suggested to veteran county cricketer and friend Graham Cowdrey (son of Colin, brother of Chris) over a beer he might like to change the position of his bottom hand after observing some early net sessions. Cowdrey responded by saying it might be a little late for that.
It firms the impression Wright is reluctant to tamper with players' natural games. Fans should not expect a renewed emphasis on Black Caps' cricketing biomechanics any time soon.
In 1986, Bob Simpson was charged with helping turn Australia's fortunes around the last time they suffered a playing crisis.
The 74-year-old dealt with Wright a lot during that period, often in the dressing room after trans-Tasman tests. He expects that the Black Caps' resolve will be strengthened.
"John used to wander in after stumps and we'd just sit down and talk cricket," Simpson says. "I always reiterated the fact team members must be sound in everything they do - mentally, physically and technically. Make sure the fundamentals are right but don't squash natural talent. Explain why you want something to happen and the benefits will result.
"I'd describe him as a simple coach, which is the best form of coaching you can get in the world. He's got a great ability to pass on knowledge with such an enormous love for the game.
"John is a man of the people in many ways. He has a wonderful ability to mix and has a face that says, 'I'm a friend'. There's no bulldust.
"If the players don't like being told things directly sometimes, so be it. He showed that in India, which is one of the most difficult [cricket] countries of all to work in."