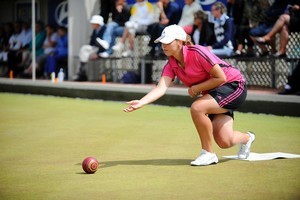 A member of the new breed of highly talented up-and-coming young bowlers, Amy Brenton, has come into her own with a singles victory at the national championships in Dunedin that will put her into the finals opposite world No 1 Jo Edwards.
It's potentially nerve-wracking to be rolling up against such a renowned player as Edwards, but 19-year-old Brenton has a recently-developed philosophy she is putting into practice for the first time at a major event.
"It's only a game of bowls," she says of Tuesday's final. "At the Challenge Trophy that relaxed me heaps, and I did the same thing this time. Just take one game at a time. It helps with nerves."
If her blazing trail of singles victories is anything to go by, the Stoke Bowling Club bowler has found a winning answer. Picking her way through section play, Brenton then cut a swathe through the competition in post-section play, including a victory over highly-regarded Clare McCaul, before her match against Sandra Keith yesterday. Keith had beaten Black Jacks Jan Khan and Dale Lang in her own bid for the trophy, but Brenton's form on the draw proved too much for her.
A tense and crowd-pleasing match throughout, the two women exchanged ends for much of the game, until Brenton pulled ahead and rolled two final ends that were simply sublime.
The teenager drove the jack into the ditch on the second-to-last end, then drew a cluster of bowls around it to end with a final score of 21-18.
"I'm pretty stoked," says Brenton, who has been bowling for six years and is a member of the Bowls NZ high performance programme. "But I really can't believe it, to be honest. There's still one more game to play, though."
Edwards' win over Val Smith in yesterday's other semifinal was equally tense. After more spectacular bowls, and some tension-easing jokes, Edwards pulled ahead and confirmed her position as world No 1 to win 21-17.
In the men's pairs, defending champions Gary Lawson and Danny Delany were beaten by fellow Black Jacks Ali Forsyth and Matthew Gallop 17-9 in their semifinal.
Despite the clever end-killing antics of Lawson, and the drawing skill of Danny Delany, the unfortunate duo couldn't match the relentless skill of their opposition.
There was some surprise when Forsyth, the world's No 4-ranked singles player, teamed up with Gallop, a recent New Zealand representative in Malaysia, but it has clearly come up trumps.
The pair will take on Ryan Bester and Chris Le Lievre in Tuesday's final after Bester and Le Lievre dispatched of Phil Skoglund and Dean Elgar in their semifinal.
The fours begin at the Taieri Bowling Club in Dunedin on Wednesday.