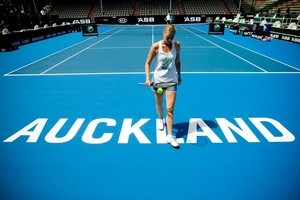 In every sporting superstar's life you can point to a flashpoint, or points, where their life made the jump from ordinary to extraordinary.
It can come in many forms: the gift of a racquet or a bat; the faith shown by a coach; or even being scared back on to the rails after a troubled adolescence.
If you were to pinpoint the moment when Maria Sharapova seemed destined for a life less ordinary, you would have to go back to the weeks before her conception.
On April 26, 1986, reactor four failed at the Chernobyl plant in Ukraine, then part of the Soviet Union, sending a massive plume of radioactive fallout into the air.
Less than 160km away in Gomel, across what is now the border into Belarus, Yuri and Yelena Sharapov were unaware, as most Soviets were, of the scale of the catastrophe.
It was not until Yelena discovered she was pregnant four months after the accident that they decided that exile in Siberia, where they had family, was the wisest course. Word-of-mouth reports of a spike in birth defects in the area had begun to circulate. Thus, Maria was born in Nyagan, Siberia - not everybody's cup of tea. Not Yuri's anyway. He moved the family again to the Black Sea resort of Sochi.
That city will play host to the 2014 Winter Olympics but, more important to the Sharapova story, it was one of the few places in the Soviet union where tennis was a popular pastime.
Kicking around the city was Aleksandr Kafelnikov, father of future two-time Grand Slam winner Yevgeny. Yuri befriended Aleksandr, who handed Sharapova her first racquet, aged four. Her freakish eye-hand co-ordination was instantly recognised.
So, in a roundabout way, a national tragedy was the catalyst for Sharapova's immersion in a sport that has made her the most highly paid female athlete on the planet.
At seven, she took part in a clinic in Moscow. Fate kicked in again. In attendance was arguably the greatest women's player of all time, Martina Navratilova, who suggested to Yuri that he needed to get Maria to the United States to hone her skills and her attitude, at all costs.
Even Navratilova must have been gobsmacked to learn that "all costs" required Yuri and Maria leaving Yelena behind for two years while she attempted to get an exit visa from the now dismantled, but still bureaucratically entangled, Soviet Union.
The story is fairly well documented from there. Sharapova was too young for the established academies, like that run by Nick Bollettieri, but her father took low-paying jobs to make ends meet and get Maria some tuition. In 1995, Sharapova was picked up by talent agency IMG, who paid fees to Bollettieri and she joined full time aged nine.
There is something enchanting about the Sharapova back story, so much that it almost eclipses what she has achieved as a professional tennis player who resides in luxury in the US.
At 17 she beat Serena Williams in the 2004 Wimbledon final in an upset for the ages. The following year she became the world's No1-ranked and in 2006 added the US Open to her cabinet.
In 2008 she won the Australian Open without dropping a set to land her third Grand Slam title and, with the Williams sisters interest in tennis appearing to be on the wane, a period of Sharapova dominance was imminent.
Instead she endured a year beset by a return of the shoulder trouble that had plagued her career. In August an MRI scan revealed that she had been playing for months with a rotator cuff tear, the sort of injury that can end tennis careers. Surgery followed in October and a long rehabilitation saw her ranking plummet to 126.
She has endured mixed results since her return, the most significant for New Zealand fans being her first-round loss to Maria Kirilenko at last year's Australian Open. By announcing she was to be the ASB Classic's marquee signing in October, she made clear she was treading a new path in 2011. The Russian admitted she had made a commitment to return to Hong Kong, her usual New Year destination, before opting for the more tranquil surrounds of Auckland.
"I'd heard incredible things about New Zealand but had never been there, so I just wanted to change it up a little bit," she said.
The news was greeted by organisers with an excitement that bordered on delirium. They'd seen the impact a similarly glamorous Russian, Anna Kournikova, could have on their tournament and this one came with the added bonus of actually being able to play.
"This one ranks right up there," tournament director Richard Palmer said.
"To get a player of her calibre and a person of her calibre ... We're rapt to get her."
What exactly are they getting from the 23-year-old? Well, they get the column inches, the mouse-clicks, and the airtime. They get a glamour quotient that is immeasurable. Sharapova has classic magazine-cover looks forged in Russia and a catwalk attitude straight outta LA. You get noise. Sharapova is a grunter in the Monica Seles mould and that attracts mild titillation and a beard-stroking think-piece or two.
Last and, hopefully, not least, the new-look, semi-construction site that once was Stanley St gets a classy tennis player still capable of winning Grand Slams. There are question marks around her serve. Once a weapon for Sharapova, since her shoulder troubles it has periodically been her bete noir.
She is not the greatest mover on court, though is a lot more comfortable on hard courts than she is on clay, having famously described herself as like "a cow on ice" after one particularly brutal match on the red dirt.
What she has never lost is the ability to hit powerful shots off both wings. Her forehand is more destructive, but her two-fisted backhand is one of the most consistent shots on tour.
What they get most of all, is a proven winner, someone who will see this as a tournament to conquer, not just a place where she can get a couple of low-key matches under her belt before she heads west for the big prizes.
It's the kind of mental toughness that can't be taught, the sort of thing you're that is a by-product of those extraordinary first 10 years of her life.