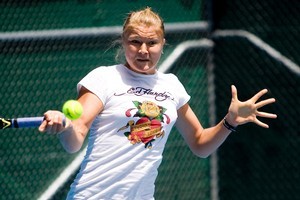 It could be a tale of two former No 1s. One, Maria Sharapova, hit on centre court in preparation for the ASB Classic. The other, Dinara Safina, hit out on the farthermost court.
Sharapova is the top seed at No 18 in the world. Safina is unseeded at 63. Sharapova has won three Grand Slams; Safina has been a finalist in three.
But, under the shade of the old oak trees, Safina, 24, explained that sometimes the journey takes a little while and a change is a good thing.
"It was a real effort getting here with snow and things coming in from Europe. I've been on the tour for a while and I've never been here.
"When I looked at the schedule there are two tournaments, Brisbane and New Zealand. I've already been to the Gold Coast and although I haven't played at the new stadium in Brisbane I wanted to have a change and start the new year in New Zealand."
And while her 2010 was probably one to forget with injuries and no tournament victories, she feels 2011 can turn things around for her.
"You're looking for good and strong matches before the Aussie Open and that's why I came here to compete."
Safina looked strong in her practice with her coach, former ATP player Argentine Gaston Etlis. Another player who was powerful in her warmup was two-time Grand Slam winner Svetlana Kuznetsova, who will be the tournament third seed and is the third of the trio of Russian stars who will make their debut in Auckland next week.
Meanwhile, two seeds withdrew from the tournament, which starts with qualifying on Saturday and Sunday and the main draw singles on Monday.
Injuries forced fourth seed Alona Bondarenko and sixth seed Klara Zakopalova to withdraw. Bondarenko is ranked 36 in the world and has been inside the top 20 while Zakopalova ranks at 41. Bondarenko has a knee injury and Zakopalova a bad shoulder.
Their places will be taken by 2009 finalist Elena Vesnina (Russia) and Sofia Arvidsson (Sweden). Spaniard Lourdes Dinguez Lino, at 85, and Hungarian Greta Arn, at 88, move into the main draw.