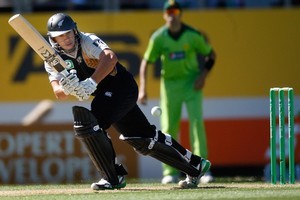 There are not many circumstances of which New Zealand can say they have a 100 per cent success rate in international cricket.
But T20 matches at Hamilton's Seddon Park are one of them.
Okay, it's not a high achievement in cricket's great statistical wonderland. They've only played there twice in the shortest form - beating the West Indies two years ago and Bangladesh last summer - but right now, after recent events, you take what you can.
The second game of the three-match series against Pakistan tonight offers a royal chance to enhance that little record.
There were signs in the five-wicket win at Eden Park on Sunday that it may not take long for New Zealand to regain some of their bounce after that horror run of 11 ODI losses on the trot.
Certainly Sunday's win, in a different version, will have helped the dressing room feel better about themselves, as allrounder James Franklin pointed out yesterday.
And the players should be smart enough to realise if they start getting carried away after one three-hour whack they've got a big problem.
"It was a step in the right direction," Franklin said. "It was important to get a win under our belts, but now it's all about the next game, and worrying about tomorrow and getting another win on the board."
Pakistan aren't the most consistent team in the game, but they are dangerous, have players who can turn a game in a blink and can beat the best.
Martin Guptill's rapid half-century at Eden Park was only New Zealand's third score over 40 against the tourists in six T20s, which is one reason why Pakistan have won four of those contests. Guptill also shares the New Zealand record of 23 balls for his 50 with Aaron Redmond, who did it against Ireland at last year's world T20.
Among New Zealand's selection decisions today is whether to stick with lively teenage bowler Adam Milne. He received soothing words of encouragement from both national captain Dan Vettori and the acting leader, Ross Taylor, after shipping 46 runs from his four overs at Eden Park.
But he's lively, did beat the bat and his cricket education will have been enhanced. There should be some support for getting him straight back on the horse today. That said, fast-medium Ian Butler and allrounder Luke Woodcock missed out on Sunday and will want a run. But keeping a winning team intact, given recent circumstances, has something to commend it too.
Taylor saw an end game out of this T20 rubber, with an eye on the remainder of Pakistan's visit.
"Momentum is a big thing in cricket," he said. "If we can continue an upward trend, as batting and bowling units we can get our confidence up, then hopefully take it into the tests as well as the one-dayers."
NZ v PAKISTAN
Seddon Park, Hamilton, 7pm today
NEW ZEALAND(from) Ross Taylor (c), Martin Guptill, Jesse Ryder, Dean Brownlie, Scott Styris, James Franklin, Luke Woodcock, Peter McGlashan, Nathan McCullum, Kyle Mills, Tim Southee, Ian Butler, Adam Milne.
PAKISTAN (from) Shahid Afridi (c), Mohammad Hafeez, Ahmed Shezhad, Younis Khan, Fawad Alam, Umar Akmal, Abdul Razzaq, Umar Gul, Wahab Riaz, Abdur Rehman, Saeed Ajmal, Shoaib Akhtar, Tanvir Ahmed, Adnan Akmal.